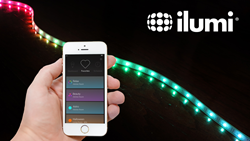 Las Vegas, NV (PRWEB) January 04, 2017
ilumi, one of the fastest growing smart lighting and Internet of Things (IoT) networking companies today, is showcasing its industry-first outdoor-rated ilumi Smartstrip at CES 2017, which allows users to effortlessly create the perfect lighting environment in any indoor or outdoor space. The company is also introducing its adjustable white A19 bulbs and BR30 floods today to complement its popular multi-color versions on the market today.
The ilumi Smartstrip enables users to create lighting magic anywhere with the world's first outdoor-rated and digitally addressable smart LED strip. With individually controlled LEDs, the ilumi Smartstrip can be set to create patterns to complement and bring alive any landscape or room. Like all ilumi smart lighting products, a user just plugs in their ilumi Smartstrip, downloads the ilumi app, and syncs them to get started – no hub or additional networking required. The ilumi Smartstrip will be available through national retailers this Spring for $89 for a two meter starter kit and $29 for one meter extensions.
The new ilumi adjustable white A19 and BR30 Smartbulbs complement the popular ilumi multi-color Smartbulbs available today through Amazon and Best Buy. Like all ilumi smart lights, their intelligent design provides lighting recommendations for each room to optimize the light to the space. And because the memory is in the ilumi bulb itself, it will remember color preferences and settings – even if users turn the smart bulb on or off with a light switch instead of the app. Available later this quarter through Amazon, the bulbs cost just $29 and $39, and offer more than a twenty-year lifetime.
Features of ilumi adjustable white Smartbulbs and the LED Smartstrip:

65,000 shades of white light to fit any lighting need and preference
Screws in like a regular lightbulb, no hub or other complicated networking required
Works with regular light switches, while remembering your settings and preferences
Completely dimmable through app
Music Sync sets light shows to your tunes
Scheduling automation for on/off times, and preferred lighting
Presets and special effect lighting options available
Bluetooth Mesh allows for easy installation and reliable control of up to fifty devices
In addition, the ilumi multi-color Smartstrip features the highest density of LEDs on a smart strip with thirty RGB and thirty white LEDs that can each be programmed and controlled separately and together to create beautiful dynamic atmosphere from more than sixteen million different color possibilities. The Smartstrip also features an industry-first IP65 outdoor rating to protect against weather. ilumi launched the first IP-rated outdoor smart BR30 flood last year to rave reviews and awards.
The new ilumi Smartstrip and industry-first BR30 Outdoor Flood can be seen at Discover Blue on January 4 at Caesars Palace, Octavius Rooms 10-12, from 5:00 – 7:30 p.m., a CES event led by the Bluetooth Special Interest Group (SIG) that brings together media and analysts to meet with innovative companies disrupting the tech space with the latest Bluetooth enabled products and applications.
CES attendees can also see ilumi Smartbulbs and strips, and its underlying Bluetooth MeshTek technology in action at distributor partner Nordic's booth #44744 in Sands A-D, Sands Exhibition Hall.
About ilumi solutions
With the smartest and most robust Bluetooth Mesh network technology on the market, ilumi solutions provides an elegant, affordable solution for manufacturers looking to quickly and reliably bring connected IoT products to market. The company also provides award-winning smart lighting solutions under its consumer-facing ilumi brand, available for purchase at Best Buy, Amazon, and other retailers. Founded in 2011, the company holds seven patents related to smart lighting, advanced wireless networks and other related technologies. Featured on Shark Tank, the company secured the backing of Mark Cuban, and was later named one of Entrepreneur Magazine's 100 Brilliant Companies. For more information, please visit ilumisolutions.com and ilumi.co.