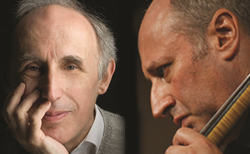 no frills, only chills and cello
New York, NY (PRWEB) January 03, 2017
Join Misha Quint (cellist) and Bruno Canino (pianist) for the latest installment of the InterHarmony® International Music Festival Concert Series at Weill Recital Hal at Carnegie Halll. Their program offers no gimmicks or tricks, only the peaks of the repertoire for cello and piano, from Beethoven to Stravinsky. Tickets are $40, and can be purchased by calling CarnegieCharge at 212-247-7800, at the Carnegie Hall box office located at West 57th and Seventh Avenue, or online at http://www.carnegiehall.org. For more information on the series visit http://www.interharmony.com.
Quint's concert series at the Weill Recital Hall has long important provided a bridge between the musical cultures and stars of America and Europe. In this recital, he offers "no frills, only chills and cello" – and an opportunity to hear legendary Italian pianist and Naxos recording artist Bruno Canino live in New York. After collaborations in Italy, the two internationally regarded performers now bring a program of monuments of the cello and piano literature to Quint's home turf: Beethoven's foundational Cello Sonata No. 3 in A Major, Op.69, Schubert's heart-breaking Arpeggione, Stravinsky's neo-classical masterpiece, the Suite Italienne, and Tchaikovsky's final work for cello: the Pezzo capriccioso, Op.62.
The cello and piano's shared history truly begins with Beethoven's Cello Sonata No.3 in A Major, Op.69, the first sonata ever to feature a real balance between these two instruments. Dating from the 'heroic' period of the 5th Symphony, it announces its intentions with the solemn and fearless statement of the theme by the cello solo, before launching into an all-encompassing emotional dialogue that could only be Beethoven's. The arpeggione itself (a sort of bowed guitar) had long died out when its sole masterpiece, Schubert's Arpeggione Sonata in a minor was finally published in 1871. But where the instrument was ephemeral, cellists have ensured that the music lived on. Its six strings allowed Schubert to create an aria of unique poignancy that goes beyond the physical possibilities of the human voice, a chiaroscuro of longing and joy. The cellist must accomplish all this on four strings, but is armed with a greater capacity to communicate emotion than the arpeggione could provide. In Paris in 1920, Stravinsky created a ballet, Pucinella, by 're-composing' the music of Pergolesi, populating the lost world of Neapolitan opera buffa with Picasso harlequins. Later, on tour with the great cellist Gregor Piatigorsky, he arranged it into the Suite Italienne. Stravinsky embeds Pergolesi's classically beautiful melodies in settings marked by his special harmonic and rhythmic genius, ornamented with virtuoso touches undreamt of in the 18th century. Tchaikovsky's Pezzo capriccioso, Op.62 is a show-stopper whose whimsical title belies its passionate depths. Composed in the same key as his tragic final Symphony Pathétique, its mercurial changes of key and character open its emotional palette to eruptions of doubt, proud assurances, virtuosic playfulness and lyrical surges of hope. For more information about Misha Quint, visit http://www.mishaquintcello.com.