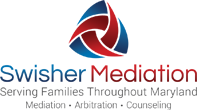 We offer private and confidential conflict resolution that is faster than litigation, less stressful, and saves thousands of dollars over traditional lawsuits.
Baltimore MD (PRWEB) January 04, 2017
Dr. Swisher and The Resolution Center have assisted families throughout Maryland by offering confidential and affordable, solutions-focused mediation, legal arbitration and family counseling. Here are Dr. Swisher's top 10 things to know when going through separation or divorce:
1. Most divorce cases settle before going to trial. Those that don't settle and involve child custody are often court ordered into mediation. You would be wise to consider mediation before or during your separation. This will save you thousands of dollars compared to litigating with attorneys. It will also help your transition to a post-separation life go smoothly.
2. There are several choices on how to get a divorce including litigation with lawyers, negotiation through attorneys, collaborative law, arbitration, and mediation. Of these choices, mediation is usually far less expensive or time consuming. In mediation, YOU maintain control of the outcome on all issues. For more information about the "Pathways to Divorce" view this 2-minute video: https://www.youtube.com/watch?v=GOqKxNcJujo
3. YOU are the best person to create YOUR post-separation life! Take some time to reflect on who you want to be after a separation. Consult friends, family and professionals, but don't hand over important decision about your life to someone else. Believe it or not, although painful, separation and divorce can lead to positive growth for you. This 3-minute video may offer you a more positive perspective: https://www.youtube.com/watch?v=E-vpADIb0As
4. If you are a parent, it would be prudent to consider the impact of your separation on your children and to take into consideration your child's personality and temperament as you create a Parenting Plan with your mediator. Mediators with both legal and counseling backgrounds can help you through this. For more about the impact of divorce on you and your children, view this 4-minute video: https://www.youtube.com/watch?v=XbA3EKSe5O0
5. Choose your battles wisely. Many couples going through a separation or divorce try and negotiate the terms of settlement by themselves. Unfortunately, this often results in polarization and entrenchment. Before you try to negotiate with your spouse, agree that any contentious topics get tabled and discussed later with your mediator. Keep in mind that most people who are presented with a settlement agreement drafted by their spouse's attorney are reluctant to sign it. Spouses that craft their own agreements together through mediation have joint "ownership" of the agreement and are more likely to abide by it.
6. Everyone has a "narrative" about their separation and divorce. Narratives seek to explain why and how the separation occurred. Narratives can be filled with strong emotional undercurrents like resentment, betrayal, and victimization, to name but a few. Do not expect your spouse to accept your narrative and be careful about how you formulate yours. A mediator can help you distinguish narratives from solutions so that the former does not steer the latter.
7. Seek out a professional counselor or therapist. Next to the death of a loved-one, divorce is the most stressful thing a person can go through. Help from an objective professional can make all the difference.
8. Organize your financial data. Make a list of your non-tangible assets and debts with most recent balances. Complete a monthly budget for yourself for after your separation and divorce.
9. Be the best person you can be under stress. Stressful events like separation and divorce can bring out your defensive side. Accept this fact. Step back and observe your feelings and behaviors. This will help you gain some objectivity and centeredness.
10. Take a deep breath regularly. Though you may feel like you're in the middle of a storm, remember that the storm will pass. Taking deep breaths on a regular basis may help you feel less tense and more accepting.