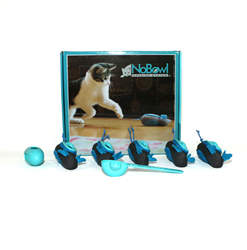 We are excited to partner with Pets at Home to offer the NoBowl Feeding System to cat lovers in the UK. We believe you'll be delighted with the changes you'll see in your cat, and we're looking forward to hearing your success stories! - Dr. Liz Bales, VMD
Philadelphia- PA (PRWEB UK) 3 January 2017
The NoBowl Feeding System is the world's first indoor hunting system, and is changing the way cats everywhere get their food. The innovative and award-winning system was successfully launched in the US earlier this year, and is now available in the UK on the Pets at Home website: http://www.petsathome.com/shop/en/pets/nobowl-indoor-hunting-feeding-system-for-cats
Creator of the NoBowl Feeding System, veterinarian Dr. Liz Bales says: "We are excited to partner with Pets at Home to offer the NoBowl Feeding System to cat lovers in the UK. We believe you'll be delighted with the changes you'll see in your cat, and we're looking forward to hearing your success stories!"
The NoBowl Feeding System is a new invention that replaces the bowl with the hunt. Veterinarian Dr. Liz Bales designed and developed the system as an all-in-one solution that reawakens the natural hunting instinct essential to feline health. The NoBowl Feeding System is backed by the latest science from the established leaders in veterinary medicine, and promotes optimum physical and mental health in cats.
The NoBowl Feeding System is clean, safe, and easy to use. It works by dispensing the dry cat food of your choice in a way that triggers the inborn feline Seeking Circuit of hunt, catch, play, eat, groom, and sleep.
Many modern cats are denied their most essential survival instinct – the ability to hunt. A frustrated hunting instinct impacts your cat's physical and mental health, and over time, can cause behavioural and medical problems such as scarf and barf, obesity, lethargy, and anxiety that can lead to destructive behaviours. The NoBowl Feeding System will help manage your cat's weight, promote exercise, alleviate anxiety, and prevent digestive issues as it transforms cats back into happy, healthy hunters.
Each NoBowl Feeding System includes everything a cat needs to start hunting in the safety of the home – a Portion Filler, a NoBowl Trainer, 5 Naked NoBowls, and 5 adorable mouse-shaped NoBowl Skins to cover the Naked NoBowls, all designed with unique features to satisfy a cat's innate hunting instinct. The NoBowl Feeding System is also perfect for multi-cat households – each of the cats can hunt and eat in separate locations in the home.
Place orders online with Pets at Home today, and take advantage of Free Delivery within the UK.
Bringing hunting across the pond! http://www.petsathome.com/shop/en/pets/nobowl-indoor-hunting-feeding-system-for-cats
Contact:
Liz Bales, VMD, CEO Feline Environmental Enrichment Company (F.E.E.D Co)
Find out more about the NoBowl Feeding System by visiting http://nobowlcat.com/