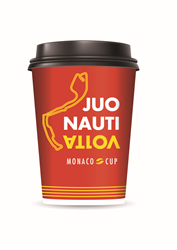 This is the first time disposable smart packaging has been available at high volumes, and the first time that thermochromic labels have been used as a commercial safety feature.
Turku, Finland (PRWEB UK) 3 January 2017
The Monaco Cup, a disposable coffee cup featuring a unique and dynamic code hidden in a heat-sensitive label, is now for sale all over Finland at Shell service stations. Magic Add generated the dynamic codes and manages them with its data and content management platform. Magic Add applied its technology to disposable cups from a packaging manufacturer partner for St1 Oy, which owns Shell service stations, restaurants and cafes in Finland.
This project marks the first time ever that high volumes of disposable coffee cups have been turned into smart packages, and the first large-scale commercial use of heat-sensitive labels as a safety feature. Thermosensitivity keeps the code invisible until usage, safeguarding content for customers.
When a hot drink is poured into the Monaco Cup, the heat activates the thermochromic label, revealing a unique and dynamic code. By either scanning the code with a mobile device or entering it into a website, customers are eligible to win prizes ranging from free coffee to the grand prize, a trip for four to Monte Carlo to see the Monaco Grand Prix. Magic Add's smart software makes sure that each code can only be used once and dynamically changes the content after usage.
Magic Add worked with Finnish creative agency Mediakolmio to develop the Monaco cup campaign and design. The cups arrived in stores just before the New Year and the campaign will continue for about three months.
About Magic Add Ltd.
Magic Add is creating the Internet of Packaging. Magic Add uses unique identifiers and a cloud-based platform to make cost-efficient, high-volume smart packaging for fast-moving consumer goods (FMCG). Based in Finland, Magic Add partners with leading packaging manufacturers and global consumer brands. With applications in marketing, manufacturing, and logistics, Magic Add's technology can be used to combat a diverse range of issues such as counterfeit goods and waste. Find out more about Magic Add and the Internet of Packaging at http://www.magicadd.com/.
About St1
St1 is a Nordic energy group whose vision is to be the leading producer and seller of CO2-aware energy. The company researches and develops economically viable, environmentally sustainable energy solutions. St1 consists of two sister groups: St1 Nordic focuses on fuels marketing activities in Finland, Sweden and Norway and on renewable energy solutions such as waste-based advanced ethanol fuels and industrial wind power. Company has 1450 St1 and Shell branded retail stations in Finland, Sweden and Norway. The sister group St1 Group focuses on oil refining. Headquartered in Helsinki, the company employs currently 700 people in Finland, Sweden and Norway. http://www.st1.eu.
About Mediakolmio
Mediakolmio is a Finnish creative agency focused in marketing management in the changing digital environment. Company has over 40 employees located both in Helsinki and Lappeenranta. http://www.mediakolmio.fi.