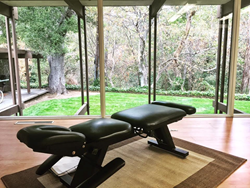 " I love when a patient walks into my treatment room for the first time and is blown away by the view."
Los Gatos, CA (PRWEB) January 05, 2017
Advanced Chiropractic, a well-established chiropractic office in Los Gatos, relocated to a new location.
"We have served our community for over a decade at the office complex on Alberto Way, right across the street from the Los Gatos Lodge. Patients loved the location, easy access to the highway and parking. Due to new ownership, all businesses had to relocate."
By coincidence Dr. Andrea, a chiropractor born in Germany found the perfect new space for her practice.
"At first, we were sad to leave that place, but we fell in love with the new office on Oak Meadow Drive, right across the Oak Meadow Park," Dr. Friese said. "I love when a patient walks into my treatment room for the first time and is blown away by the view. It's so serene and your stress just melts away instantly."
Recognized for her expertise in treating entire families in the Los Gatos, Saratoga, Campbell and San Jose area, Dr. Friese's family practice is open to patients of all ages with a variety of conditions.
Dr. Friese is dedicated to helping patients achieve their wellness objectives -- combining skill and expertise that spans the entire chiropractic wellness spectrum. "I am committed to bringing you better health and a better way of life by teaching and practicing the true principles of chiropractic wellness care," Dr. Friese said.
Conditions treated at Advanced Chiropractic include: Spinal Pain, Migraine and Tension Headaches, Nerve Pain, Sciatica, Soft Tissue Injuries, Sports Injuries, Tendonitis, Shoulder Disorders, and Pregnancy-Related Pain.
Dr. Friese attended Life Chiropractic College West in Hayward, California, where she worked firsthand with some of the nation's foremost physicians in the field of radiology, orthopedics, neurology and rehabilitation. She continues her education on the latest techniques and treatments in chiropractic and has extensive training in exercise physiology, nutrition and soft tissue therapies.
If you could benefit from chiropractic or massage treatment, now is a great time to get started.
To learn more about Dr. Friese and Advanced Chiropractic, visit http://www.losgatoschiro.com