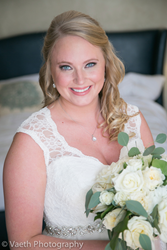 St. Louis, MO (PRWEB) January 11, 2017
One in four orthodontic patients is now an adult, according to research by the American Association of Orthodontists.* Doctors say most of those adults are seeking to improve their appearance. On the heels of the most popular days for engagements - Christmas Eve and Christmas - more newlyweds are thinking about how to achieve a healthy, beautiful smile for their wedding day. **
Five reasons to opt for orthodontics:
1. It's the investment of a lifetime.
Investing in a healthy, beautiful smile may be one of the smartest moves brides and grooms can make as they plan their big day. Advances in orthodontic treatment can offer a beautiful smile more and affordably than most people realize. And long after the flowers are faded and the reception lights are dimmed, a gorgeous smile is a gift that stays with you happily ever after.
2. There's still time before your wedding.
"For those special occasions, we can often prioritize moving the most visible teeth, the ones most easily seen when smiling, to get them 'picture perfect' in time for the big day," says DeWayne B. McCamish, DDS, MS and president of the American Association of Orthodontists. "Even if an individual has a complex problem, we have the ability to quickly improve the appearance of the smile and correct issues beneath the surface as treatment continues." Plus, many orthodontists offer extended hours to accommodate adult patients' work schedules, and the time between visits is now longer than it used to be - usually six weeks, due to improved treatment protocols. "That's good news for working people."
3. You'll keep your good looks.
Clear aligners and braces made with ceramic brackets are practically invisible, making them popular options for adults. "People don't even realize you are in treatment," says Dr. McCamish. The AAO attributes the rise in adult orthodontics to the improved self-esteem and self-confidence that come with orthodontic treatment. "Patients tell us their social lives improve after treatment, and we can see the changes that happen as people just smile more often and with more self-confidence."
5. Your treatment won't break the bank.
Orthodontists are one of the few healthcare professionals that offer payment plans, which helps make payments quite manageable. "It's about the cost of a cell phone plan, but lasts a lot longer," notes Dr. McCamish. Some employers are beginning to include adult orthodontic coverage in their dental plans. Many employers offer Flexible Spending Accounts (FSAs), which allow employees to set aside pre-tax dollars that can cover treatment. "At the end of the day, this is a lifetime investment in your health and appearance, and there are ways orthodontists can arrange to make treatment affordable."
"Your wedding day is probably the most photographed day of your life," says Dr. McCamish. "Why not make those photos sparkle forever with a healthy, beautiful smile?"
*Source: "Economics of Orthodontics Study", 2013, Loyalty Research Center, Indianapolis, Indiana
**Source : https://www.facebook.com/business/news/engaged-people-on-facebook
About the American Association of Orthodontists
Members of the American Association of Orthodontists (AAO) help children, teenagers and adults achieve healthy, beautiful smiles.
Orthodontists are uniquely qualified specialists who diagnose, prevent and treat dental and facial irregularities to correctly align teeth and jaws. Orthodontists receive an additional two-to-three academic years of specialized education beyond dental school at an accredited orthodontic residency program.
Founded in 1900, the AAO is the world's oldest and largest dental specialty organization. It represents more than 18,000 orthodontist members throughout the United States, Canada and abroad. The AAO encourages and sponsors key research to enable its members to provide the highest quality of care to patients, and is committed to educating the public about the need for, and benefits of, orthodontic treatment.
Only orthodontists qualify for AAO membership. For more information, and to find AAO-member orthodontists near you, visit mylifemysmile.org.