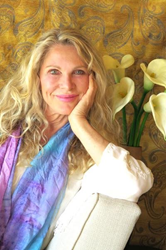 Oak View, California (PRWEB) January 05, 2017
When it comes to delivering spiritual truths in a way normal people can understand and relate to, Lola Jones holds a special place in many people's hearts. The author and Spiritual Teacher, well known for her inspirational songs, healing and empowering meditation silent retreats in California, Germany and the U.K. and life changing books recently announced the release of a Special 10th Anniversary Edition of her most popular work, the book "Things are Going Great in My Absence". Readers and reviewers alike couldn't be happier.
"Lola delivers a path to spiritual bliss and practical life results" commented a spokesperson from her online store Divine Openings. "All this and much more are in the pages of 'Things are Going Great in My Absence' and the 10th Anniversary Edition is really something special and not to be missed."
According to the author, her classic book details her life changing and freedom delivering blueprint for letting go and letting the divine do the heavy lifting in a seeker's life. An act of faith, belief and trust, that has time and again delivered eye opening changes in reader's lives.
Feedback for Lola's work continues to be passionate.
Catherine S., recently said after studying and applying her work, "First, thank you for all you have given me in the last several weeks. Just doing the book has changed my life. I have been so excited about the five-day retreat and riding on the increasing energy wave. And last night I got to meet you for the first time - in an amazing dream where you came and just enveloped me with love."
Amit J., who run an Internet Marketing company in Sydney, recently blogged on Divine Openings Website about his experience of Lola's books and retreats, saying "Early this year, things really accelerated as new creative ideas and possibilities started to flow in and take shape into my reality. Almost as if I was being prepared for this all this while. I started to move my feet in the direction of the flow, and things began to stack up"
For people looking towards more inner calm and peace in their lives can opt to go for a physical edition of the book or an audio copy of it, narrated by Lola herself.
For more information be sure to visit https://www.divineopenings.com
Ends