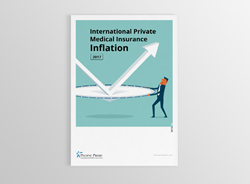 The average percentage increase of international health insurance plans in 2016 was 9.2%
Hong Kong (PRWEB) January 04, 2017
Leading insurance broker Pacific Prime has released their free annual report on International Private Medical Insurance (IPMI) inflation, available to download on their website: https://www.pacificprime.com/ipmi-2017/.
Reviewing the insurance product costs of eight global insurers in 10 locations around the world, the report outlines both global and local factors driving the inflation in premium prices seen by consumers in those areas. The results of the study should be of high interest to both individual and corporate clients thinking about how much they're paying for insurance, as well as for insurers and brokers seeking information about insurance prices in different regions.
In the new report the average percentage increase of international health insurance plans in 2016 was 9.2% - exactly the same as it was in 2015. As with the previous year's, Pacific Prime has highlighted a number of significant factors impacting IPMI inflation from the years 2009 to 2016. Its discussion on inflation drivers this year includes long term impacts as well as some newly emerged trends:

New medical technology
An imbalance of healthcare resources
Increased compensation for healthcare professionals
Healthcare overutilization
Unstable economies (New for 2017)
Changing population dynamics (New for 2017)
The increasing availability of technology (New for 2017)
The final three, newer entries to the report tell the story of tough global economic conditions driving away certain types of expats from locations such as Hong Kong, Thailand and Indonesia, while these population movements make room for a growing number of High Net Worth individuals - the types of people for whom international medical insurance is a common product for.
Tech trends, such as businesses using online portals and consumer demand for wearable fitness trackers, are also things to watch out for in future when it comes to what drives your premium prices. While previous reports focused mainly on drivers putting positive pressure on premium inflation over the years, this year's report considers what drivers may be acting negatively on prices or helping to hold increases at a steady pace.
In a change to the report's normal structure, Pacific Prime has had to account for the significant legislative changes that have taken place in the United Arab Emirates' region of Dubai. The introduction of compulsory health insurance coverage by both locals and expats has seen the insurance market, and their premiums, change considerably from what it was in previous years.
Finally, the IPMI inflation report for 2017 has also listed it's Top 3 Global Insurers with the Lowest Average Premium Increase for both 2017 and for the five year period between 2009-2016. They are:
Top 3 Global Insurers with Lowest Average Premium Increase (2017):

Allianz Worldwide Care
William Russell
Bupa Global
Top 3 Global Insurers with Lowest Average Premium Increase (2009-2016):

Aetna International - (InterGlobal)
Allianz Worldwide Care
William Russell
The International Private Medical Insurance Inflation 2017 report is available for free in two different versions:
1. A digital version which can be found on the Pacific Prime website (https://www.pacificprime.com/ipmi-2017/)
2. A downloadable PDF which can be found here: https://www.pacificprime.com/ipmi-2017/download/
About Pacific Prime
Headquartered in Hong Kong, Pacific Prime International Limited is a leading insurance advisor that leverages its close relationships with over 60 leading insurance companies to provide the best value insurance services and products to individuals and corporations. With offices strategically located in China, Hong Kong, Singapore, and the UAE, Pacific Prime principally offers advice on international health insurance, business insurance and life insurance. For more information, visit: https://www.pacificprime.com/