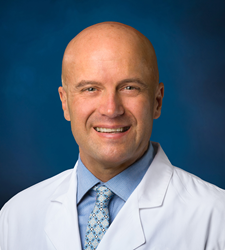 Jacksonville, Fla. (PRWEB) January 03, 2017
Dr. Edward J. Gorak has always felt a strong pull toward community service.
He followed in his father's footsteps and joined the U.S. Army and found his passion in oncology and research while in medical school. That commitment to service lasted 12 years as he significantly grew and led hematology-oncology and bone marrow/stem cell transplant programs at Walter Reed Army Medical Center in Washington, D.C.
But he didn't stop there. After a highly decorated military service, he joined Geisinger Medical Center in Pennsylvania where he not only grew and implemented high-quality research trials for underserved populations but expanded hematology-oncology services and received national accreditation for the bone marrow transplant program.
Dr. Gorak is now taking his passion and extensive experience to form and grow similar programs in Jacksonville after recently being named Head of the Division of Cancer Medicine at Baptist MD Anderson Cancer Center. Dr. Gorak has been at Baptist MD Anderson since August 2015 as one of the founding medical oncologists who helped start Baptist MD Anderson Cancer Center, which opened in October 2015.
"I'm looking forward to being part of the team who will bring comprehensive, quality cancer care to northeast Florida," said Dr. Gorak, DO, MBA, MS, FACP. "We plan to strengthen existing programs such as our breast cancer program and continue to expand high-quality research. Our partnership with MD Anderson Cancer Center in Houston is going to be critical in utilizing some shared research and new technologies."
Making cancer history
While he will continue with his clinical practice at Baptist MD Anderson, Dr. Gorak now takes on administrative responsibilities and serves as physician-in-chief for medical oncologists and other physicians who work at the cancer center.
"We appreciate Dr. Gorak's earlier work on helping to build the Baptist MD Anderson Cancer program," said Darin Roark, vice president of oncology services for Baptist Health. "We are grateful to have him step up into the leadership role as we continue advancing our efforts to grow and support the needs of our patients."
And with a new nine-story building set to open in 2018, Baptist MD Anderson will be recruiting additional national leaders in medical oncology and other medical oncology specialties in areas such as lung cancer, colorectal cancer and gastrointestinal (GI)/genitourinary (GU) cancer, among others.
Dr. Gorak will lead in building new programs in cancer treatment and quality improvement.
"Dr. Gorak can bring people together to create even more effective teams and integrative care with surgery, radiation oncology, and cancer medicine to better meet the needs of our patients closer to where they live," said Bill Putnam, MD, medical director for Baptist MD Anderson.
"He has a very nice way about him and is aligned with our broad mission of integrated and coordinated cancer care," Dr. Putnam added. "I think Dr. Gorak will be an individual who will help us accomplish our goals of making cancer history."
Extensive experience
Dr. Gorak brings a wide-range of interests and experience to his new role. He is board certified in hematology, medical oncology and internal medicine.
With a master's in business administration and a master's of science in epidemiology, Dr. Gorak served as director of the hematology malignancy program and principal investigator for oncology research at the Geisinger Cancer Institute in Pennsylvania before coming to Baptist MD Anderson. He also was co-director of The Center for Bone Marrow Transplantation for seven years and led national cancer trials.
"The health care industry is changing rapidly and Geisinger is one of the health systems that is leading that change," Dr. Gorak said. "My experiences at Geisinger were one of a kind and I look forward to bringing those insights to Baptist MD Anderson."
In addition to significant growth of the hematology program at Geisinger, Dr. Gorak and his team maintained continuous grant funding through the National Cancer Institute's Community Clinical Oncology Program and secured additional funding as one of only a few selected sites for the cancer institute's competitive Community Cancer Clinical Program and Community Oncology Research Program. As a recognized leader, he was selected as a fellow of Geisinger's Strategic High Potential Program.
Previously, he served at Walter Reed Army Medical Center as assistant chief for hematology-oncology and director/medical director of the Stem Cell Transplantation Program. He also was attending physician for the bone marrow transplant program and chief of the hematology-oncology clinic.
He rose to the rank of lieutenant colonel and received numerous honors for his service including Meritorious Service Medal, Army Commendation Medal, Army Achievement Medal, National Defense Service Medal (bronze star), Global War on Terrorism Ribbon, Army Service Ribbon and Overseas Ribbon.
Early in his military career, he used immunotherapy and vaccine therapy for malaria and the development of vaccines against smallpox and other diseases, for which he received the Army's Meritorious Service Medal. Dr. Gorak also spent a significant amount of time at the National Institute of Health where his research focused on complications of bone marrow transplants.
"The military taught me life skills such as the importance of teamwork and taking pride in your work and your organization," Dr. Gorak said. "I also learned how fragile life is after caring for soldiers who had their worlds turned upside down through conflict. It was very satisfying to me to be involved with the rehabilitation process of our soldiers and veterans so that they can go back to "standing on the wall" and protect the rest of us."
With numerous journals and abstracts on a variety of cancers and treatments, Dr. Gorak serves on several key national committees such as the National Cancer Institute Myeloma Steering Committee and the National MDS (Myelodysplastic Syndromes) Natural History Study Steering Committee.
But his biggest rewards come from his patients, he said.
"I enjoy the long-term aspect of caring for my patients and taking care of their families too," Dr. Gorak said. "There is a lot of gratification seeing them overcome their cancer and come out on the other end in good shape."
For more information on Baptist MD Anderson Cancer Center, go to baptistmdanderson.com.
###
About Baptist Health
Baptist Health is a faith-based, mission-driven system in Northeast Florida comprised of Baptist Medical Center Jacksonville; Baptist Medical Center Beaches; Baptist Medical Center Nassau; Baptist Medical Center South; Baptist Clay Medical Campus and Wolfson Children's Hospital – the region's only children's hospital. All Baptist Health hospitals, along with Baptist Home Health Care, have achieved Magnet™ status for excellence in patient care. Baptist Health is part of Coastal Community Health, a regional affiliation between Baptist Health, Flagler Hospital and Southeast Georgia Health System forming a highly integrated hospital network focused on significant initiatives designed to enhance the quality and value of care provided to our contiguous communities. Baptist Health has the area's only dedicated heart hospital; orthopedic institute; women's services; neurological institute, including comprehensive neurosurgical services, a comprehensive stroke center and three primary stroke centers; a Bariatric Center of Excellence; a full range of psychology and psychiatry services; urgent care services; and primary and specialty care physicians' offices throughout Northeast Florida. Baptist MD Anderson Cancer Center is a regional destination for multidisciplinary cancer care which is clinically integrated with MD Anderson Cancer Center, the internationally renowned cancer treatment and research institution in Houston. For more details, visit baptistjax.com.