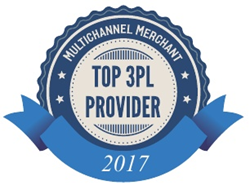 "Taylored Services is excited to be recognized by Multi-Channel Merchant for our commitment to developing our eCommerce distribution capabilities"
Iselin, NJ (PRWEB) January 05, 2017
Taylored Services, LLC. has been named a Multichannel Merchant Top 3PL for 2017, included in a listing of leading third-party logistics providers selected by the editors of Multichannel Merchant.
Given the growth of ecommerce and the increasing number of 3PLs in the marketplace, Multichannel Merchant has created this unique resource vetting 3PLs that are ecommerce qualified and experienced as a value-added service for its audience. The online resource is a searchable database/directory for merchants looking for a qualified 3PL provider.
Each company profile in the Top 3PL listing includes vital information to help merchants in their provider selection process, including key capabilities, average annual client order volume, top merchandise categories handled, facility locations and more.
"As eCommerce fulfillment continues to grow throughout our client base, we have had to adapt our operational procedures, our facility designs and our technology to accommodate the "At-Once" requirements of the business."
About Multichannel Merchant
Multichannel Merchant reaches key decision makers responsible for ecommerce, management, marketing and operations at companies that sell merchandise through multiple channels — including ecommerce, mobile, social, and catalog. Multichannel Merchant delivers original research, as well as in-depth analysis of trends and best practices, news, tactical/how-to, executive summaries, technology and supplier comparisons, tip sheets and resource information to help companies sell & deliver products wherever and whenever the customer wants them – at home, work, store or other locations.
ABOUT TAYLORED SERVICES, LLC.
Taylored Services is a fully integrated third party logistics provider specializing in Wholesale, Retail and Direct to Consumer unit fulfillment. We operate 1.5 million square feet of warehouse and distribution space within close proximity to the Gateway Ports of Los Angeles / Long Beach and Newark, NJ. Taylored Services provides award-winning retail capabilities with extensive expertise in apparel, footwear and accessory distribution. Our commitment to technology and automation offers our clients the ability to find the right solution for their business. Our skilled and committed customer service team is ready and willing to serve you.
When selecting supply chain partners, it is important to recognize and align each company's commitment and investment in technology. Taylored Services continually invests in its IT infrastructure to stay ahead of the many demands placed on wholesale and retail apparel companies in today's market. To achieve an efficient distribution solution, Taylored develops strategic partnerships with our customers, our WMS and EDI providers and the integrators that install our automated solutions. Taylored Services does not want to just be your warehouse, we desire to be a strategic partner and critical component of your supply chain.