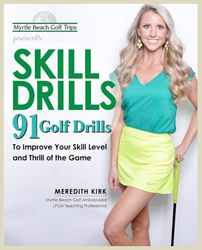 There are plenty of drills you can practice indoors during inclement weather & as you gear up for your spring golf trip.
Myrtle Beach, S.C. (PRWEB) January 04, 2017
Myrtle Beach Golf Ambassador and highly-awarded golf instructor Meredith Kirk has released her latest book "Skill Drills, 91 Golf Drills To Improve Your Skill Level and Thrill of the Game," presented by Myrtle Beach Golf Trips.
The free book addresses everything from finding balance and posture in the golf swing to how to develop a better grip. Through a variety of exercises, Kirk demonstrates ways to strengthen golf's most-used muscles for game improvement. She starts with simple warm ups and moves into specifics like controlling putting speeds, chipping stance, and resetting your wedge game.
"Most golfers are concerned about getting more distance off the tee which I address in several places in the book," said Meredith Kirk, author of "Skill Drills." "There are also plenty of drills you can practice indoors during inclement weather and as you gear up for your spring golf trip."
Kirk is the lead instructor at the Dustin Johnson Golf School in Myrtle Beach, South Carolina, and the Myrtle Beach Golf Ambassador with Founders Group International (FGI), owner of 22 Grand Strand golf courses and package provider Myrtle Beach Golf Trips. Golf Digest recently named Meredith Kirk to its 2017 list of "Best Young Teachers" in America. Other awards include 2015 Top 40 Instructors Under 40 by Golf Digest, 2015 Innovator of the Year by Golf.com, and in 2016 she was ranked third for Instruction in South Carolina by Golf Digest.
Kirk has recently been featured on the Golf Channel's School of Golf and The Golf Fix. She also appeared on The Traveling Golfer with Tony Leodora.
"Meredith is a great asset to our team," said Steve Mays, director of marketing and sales for Founders Group International. "Myrtle Beach Golf Trips is about helping people to better enjoy the game, whether it's setting up golfers on great courses in Myrtle Beach or supporting Meredith in her efforts to help golfers improve and enjoy the game more."
Golfers can schedule a lesson with Kirk at the Dustin Johnson Golf School at TPC Myrtle Beach. TPC Myrtle Beach is the only course on the Grand Stand to have been awarded 5 stars by Golf Digest.
Skill Drills can be found at http://myrtlebeachgolftrips.com/skilldrills. Golfers can also find Kirk's golf tips at MBN.com.
More information about Meredith Kirk and FGI is available at MyrtleBeachGolfTrips.com.
About Founders Group International
Founders Group International (FGI) is the foremost golf course owner-operator company in the Southeastern United States. Formed in 2014 through various purchases and the 2015 acquisition of National Golf Management, FGI owns and operates 22 golf courses (423 holes) in and around Myrtle Beach, S.C., America's seaside golf capital.
FGI administers http://www.MBN.com, a leader in online tee time bookings, as well as package outlets Ambassador Golf and Myrtle Beach Golf Trips. With the help of Golf Insider's 100 percent player-generated course ranking system, thousands of golfers plan and assemble their ideal golf itineraries through FGI's assets, including "top-100 caliber" courses Pawleys Plantation Golf & Country Club, Grande Dunes Resort Club, TPC of Myrtle Beach, King's North at Myrtle Beach National Golf Club, Pine Lakes Country Club and more than 80 other Myrtle Beach area courses.
FGI also has a division that does residential and retail development, and it has partnered with one of the biggest travel agencies in China to bring golfers and wedding parties to Myrtle Beach, S.C.