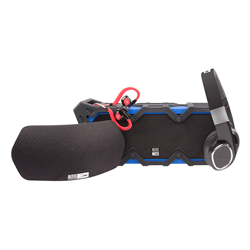 Trusted Audio Innovator Brings Sounds to Life with the Newest in Everything-Proof, Smart Home, and Fitness Audio
Las Vegas, NV (PRWEB) January 05, 2017
(CES Booth #16029) Altec Lansing, innovator in sound, unveils at 2017 CES® this week three entirely new, design-driven lines of Bluetooth and Wi-Fi audio for any setting: from home parties, to marathon training, or transatlantic jet-setting. The new lines include: an array of stylish Sport earphones; the Smart Home speaker series; and, an elite Executive Line of headphones. Altec Lansing is also building on the success of its Everything-Proof collection by introducing the latest in rugged Bluetooth speakers, ranging from the Baby Boom to the Sonic Boom. These latest offerings and more will be previewed at the Las Vegas Convention Center, January 5-8, 2017, at the Central Hall, Booth #16029.
Altec Lansing is launching a comprehensive line of Bluetooth fitness audio with shapes, colors, and designs to complement active lifestyles, regardless of the elements - and they'll keep the workout going with lithium ion batteries. Featuring the Sport In-Ear Earphones, Behind-the-Ear Earphones, Bluetooth Sport Headphones, and Hybrid Around-the-Neck Earphones, these earphones are all rated sweatproof and waterproof, so fitness fans can find something to suit their activity. Also great for workouts are the new Freedom 2 Wireless earbuds, the next generation of Altec Lansing's truly wireless earphone line, now 40 percent smaller, allowing for an even more comfortable fit.
The new Smart Home speaker line features three SmartStream speakers – all equipped with both Bluetooth and Wi-Fi capabilities for multi-room surround sound. The SmartStream speakers work with apps and music services like Google Home, Google Cast, Spotify Connect, Internet radio, or the new Altec Lansing Playlist App. No matter how they connect, they stream impressive sound with the speaker's ability to hit the highs and lows of any favorite tunes.
Altec Lansing is also adding several sizes of speakers to its popular line of ultra-durable Everything-Proof audio. The all new Sonic Boom is the biggest speaker to join the everything-proof family, with a stereo amp for sound fit for any party or poolside. The Life Jacket XL and the Baby Boom are also newcomers to the line. All boast powerful Bluetooth sound and a long life with a lithium ion battery. Each has an IP67 waterproof, shockproof, and a snowproof rating – and they float! – which means withstanding the elements while consumers enjoy their favorite tunes.
Additionally, select speakers from both the Smart Home and Everything-Proof line, including the Mini LifeJacket, Sonic Boom, and Omni Jacket, will be able to take advantage of Altec Lansing's new "House Party mode," which allows these speakers to connect via Wi-Fi and/or Bluetooth through the new "Playlist App" (available via iTunes for Apple and Android). This new app will allow users to access playlists from apps like Spotify, and then pair with up to 50 speakers at once for true party mode!
Finally, for professionals and travelers who only want the best, Altec Lansing's Executive Line of headphones is made with a sleek design and a variety of sophisticated materials and textures, including the fashionable Lux Headphones and Lux ANC Headphones. Complete with extra long battery life and carrying cases that give an extra charge with a built-in power bank, these headphones are perfect for jet-setting executives, or those with discerning taste.
For more information, check out Altec Lansing at 2017 CES Las Vegas, at booth #16029 in the Central Hall, or visit http://www.alteclansing.com.
About Altec Lansing
Since 1927, generations of music enthusiasts have recognized Altec Lansing as a premier brand that consistently delivers high quality and rich sound in a host of audio products including; headphones, earphones, everything-proof speakers, home and car audio, DJ speakers, turntables, mobile accessories, and more. Altec Lansing provides a seamless combination of beautiful design aesthetics and terrific sound to exceed every audiophile's expectations. Those who know audio, know Altec Lansing.
http://www.alteclansing.com l @alteclansingofficial
For more information, please contact:
Resound Marketing for Altec Lansing
Vanessa Giacoppo or Elizabeth Lloyd
vanessa@resoundmarketing.com / O: 609.279.0050x108 / C: 609.577.2783
elizabeth@resoundmarketing.com / O: 609.279.0050x115 / C: 214.336.1677