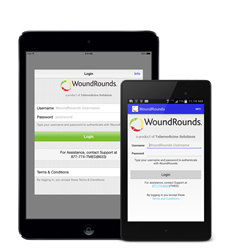 Because WoundRounds and Third Eye Health enable anytime access to healthcare providers, we are better able to treat our residents in place and avoid unnecessary hospitalizations.
Schaumburg, IL (PRWEB) January 04, 2017
Avalon Healthcare Group, which manages senior care services in nearly 40 communities, has selected WoundRounds and Third Eye Health to automate wound care management and provide telemedicine for residents with wounds. The TeleWound program provides residents 24/7 access to high quality, specialized medical consultants, and is designed to improve care, reduce cost and eliminate unnecessary hospitalizations.
WoundRounds mobile technology enables nurses to provide better wound care by capturing wound assessments at bedside, prompting for preventive interventions, and standardizing documentation and reporting. According to Michelle Marquez, Vice President of Clinical Services, "At Avalon, our mission is to provide the very best in care. With WoundRounds, we not only enhance the customer experience for our wound care residents, but we also make caregiving easier for our clinical team. Our nursing staff appreciates this commitment to wound care excellence and their employee satisfaction."
Third Eye Health's technology turns the nurse's mobile device into remote triage and consultation system for conducting 24/7 secure messaging and telehealth visits. Using the Third Eye platform and medical care teams, nurses can collaborate with other healthcare professionals to expedite care, including on-site and real-time remote consultations for residents.
"We're excited to provide the best care, even on nights and weekends, through the remote capabilities of the Third Eye Health technology platform, says Billie Jo Nutter, President & CEO of Avalon Brighton Rehabilitation. "Because this technology enables anytime access to healthcare providers, we are better able to treat our residents in place and avoid unnecessary hospitalizations," adds Nutter.
"At Avalon, we are proud to partner with WoundRounds and Third Eye Health to improve the quality of life of residents and the dedicated staff who care for them," says Nutter.
About Avalon Healthcare
When it comes to senior care, Avalon Healthcare doesn't just have a few irons in the fire – we are the fire! This energy has fueled our passion for nearly 30 years. Decades of this innovation provide the fuel to go places—meaning no matter where life takes you, you can bet our remarkable team and services are nearby. Avalon's comprehensive senior care services include: skilled nursing, senior living, rehabilitation therapy, and hospice services. Our care legacy is based on personal integrity and commitment to provide compassionate, responsible, quality services to the nearly 40 communities we serve. We strive to provide industry leading care in a patient centered environment. We embrace a reverence for life, and a heart for healing. Visit http://www.avalonhealthcare.com/
About WoundRounds
WoundRounds, a service of Telemedicine Solutions LLC, is the point-of-care wound management and prevention solution that empowers clinicians to deliver better wound care in less time. WoundRounds drives consistency in nursing practice, completeness in wound documentation, and compliance with clinical standards. Customers of WoundRounds report lower overall costs of care, improved healing rates, lower return-to-hospital rates, and reduced risk. Visit http://www.woundrounds.com or follow us on Twitter @woundrounds.
About Third Eye Health
Third Eye Health provides secure medical communications so providers can make better decisions faster. By leveraging mobile technologies, Third Eye Health turns any device into a remote triage and consultation system for conducting secure messaging and telehealth visits. Providers can use the platform to collaborate with other healthcare professionals to expedite care and enable timely intervention. Third Eye also offers its own high quality, specialized medical team accessible via its advanced communication system to help organizations improve clinical outcomes and improve profitability. Third Eye Health works with leading healthcare institutions across the United States. Visit http://www.thirdeyehealth.net/marketing/