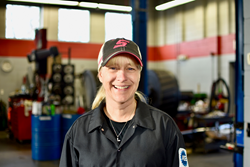 Motorists should also keep the gas tank at least half full at all times to decrease the chances of moisture forming in the gas lines and possibly freezing
Aberdeen, NJ (PRWEB) January 04, 2017
Now that winter is here, New Jersey motorists would be wise to take some relatively simple and inexpensive steps to winterize their cars, advises Janet Bigelow of Aberdeen-based Advanced Tire & Auto Center. Failing to do so can lead to major headaches, she warns.
"Each year, our shop sees a big jump in calls about car breakdowns—dead batteries, leaking gaskets and everything in between—as soon as the mercury drops below freezing," notes Bigelow, who has more than 16 years of experience as an auto technician. "By investing in an hour or two of maintenance to winterize your vehicle, you can reduce your chances of being stuck on the side of the road in the middle of a snowstorm."
The veteran mechanic offers a check list for a winter vehicle inspection geared toward protecting vehicles from the effects of the state's harsh winter weather. It includes:

Checking the battery and charging system.
Cleaning, flushing and putting new antifreeze into the cooling system. (This should be performed at least every two years, Bigelow advises.)
Making sure heaters, defrosters and wipers work properly. She recommends using winter wiper blades and cold-weather washer fluid; wiper blades should be replaced every six months.
Examining tire tread depth and tire pressure. For areas where snow and ice are a problem, she recommends using special tires to grip slick roads.
Changing the oil and checking/replacing the oil, fuel, air and transmission filters as required.
Inspecting brakes—the vehicle's most important safety system.
Eliminating carbon monoxide leaks from the exhaust system, which can be especially dangerous during cold-weather driving when windows are closed.
Replacing exterior and interior lights as needed, and properly aiming headlights.
"If your vehicle is due for a tune-up, you should consider doing this now, because winter magnifies existing problems such as pings, hard starts, sluggish performance or rough idling," Bigelow adds.
"Motorists should also keep the gas tank at least half full at all times to decrease the chances of moisture forming in the gas lines and possibly freezing," she says. "In addition, drivers should check the tire pressure of the spare in the trunk and stock an emergency kit with an ice scraper and snowbrush, jumper cables, flashlight, flares, blanket, extra clothes, candles/matches, bottled water, dry food snacks and needed medication."
Simply because of the law of physics, winter is hard on any car, Bigelow notes, and this is especially true in New Jersey. "Fortunately," she concludes, "drivers can be proactive by making winterization a regular part of their auto-maintenance schedules."
About Advanced Tire & Auto Center.
Advanced Tire & Auto Center, located on Route 35 in Aberdeen, Twp., N.J., was established by veteran mechanic Jason Bigelow in 1995, who now runs the business with his wife Janet, also a mechanic. Known for its focus on diagnosing and repairing state-of-the-art, 21st-century vehicles, Advanced Tire & Auto Center utilizes 21 factory O.E. diagnostic tools paired with well-trained technicians to perform the same level of service offered by dealerships, but at lower costs. Its comprehensive offering also includes tire sales and service, wheel alignments, "check engine light" diagnostics, as well as services to corporate and municipal vehicle fleets, body shops and insurance companies.
####
Press contacts: At Parness & Associates Public Relations, Bill Parness, bparness(at)parnesspr.com or Lisa Kreda, lkreda(at)parnesspr.com (732) 290-0121.
At Advanced Tire & Auto, Jason Bigelow, Jason(at)advancedtireauto.com, Janet Bigelow, Janet(at)advancedtireauto.com, 146 Hwy. 35 North, Aberdeen, NJ 07735, (732) 290-7300.