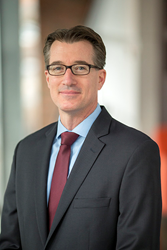 Waltham, MA (PRWEB) January 05, 2017
The Board of Directors of Simpson Gumpertz & Heger (SGH) appointed Charles Russo as the firm's new Chief Executive Officer (CEO) effective 1 January 2017. Glenn Bell – who took over as CEO in 1995 from firm founder Howard Simpson – will remain Chairman of the Board and Senior Principal in the firm's Engineering Mechanics & Infrastructure Division.
"I am excited to see Charlie step in as CEO after this thoughtful and structured transition process," said Glenn. "He is an extraordinary leader with great vision. I am sure he will guide Simpson Gumpertz & Heger to an inspiring future along with the next generation of leaders at the firm."
"I am honored to follow in Glenn's and Howard's footsteps and excited to continue building on the firm's great legacy," said Charlie. "The success of Simpson Gumpertz & Heger has always come from the collective passion and commitment to excellence of our incredibly talented people. As we look to the future, I am confident that we are well-positioned to grow our business, create rewarding careers for our professionals, and deliver lasting results for our clients."
Charlie added, "I joined the firm the same year that Glenn took over as CEO and have seen first-hand how he guided Simpson Gumpertz & Heger into the world-class organization it is today. I am thankful for his mentorship throughout my career and especially during this transition period, and look forward to his continued leadership on the Board of Directors and his technical expertise on our project teams."
Simpson Gumpertz & Heger Inc. (SGH) is a national engineering firm that designs, investigates, and rehabilitates structures, building enclosures, and materials. Our award-winning work encompasses building, energy, civil/infrastructure, and science/defense projects in the United States, Canada, and more than thirty additional countries.
SGH has offices in Boston, Chicago, Houston, New York City, San Francisco, Southern California, and Washington, DC. For more information, please visit http://www.sgh.com.