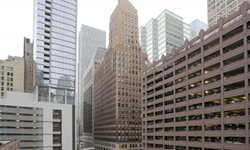 "Through this auction, investors and users looking for space in the Central Loop will be able to purchase a highly visible commercial condo with a long window line, perfect for office or retail use."
Chicago, IL (PRWEB) January 04, 2017
Millennium Properties R/E, a premier boutique brokerage and property management company, announced that it will be auctioning off two properties in the Loop on January 26, 2017. The properties included in this auction are a turn-key office condo in the Central Loop and two deeded parking spaces in Chicago's financial district.
At the corner of Lake and Wells St., 182 W. Lake is a second floor, 8,006 square foot office condo in a historic mixed-use building. The unit is currently built out with a reception area, 14 private offices, a cubicle area, a conference room, a kitchenette and two self-contained bathrooms. The space is located at a busy corner in the Central Loop with visibility from five different El lines, making it a great location for retail or office use. Previously, this unit was used as the sales offices for American Invsco, a real estate developer specializing in condos and the condo is part of a bankruptcy case.
The auction also includes two adjoining parking spaces in a recently developed condo building at 235 W. Van Buren in the financial district. These spaces can potentially be rented to building residents or office workers in the nearby Board of Trade and Willis Tower.
"Investors and users alike will be drawn to these auction properties due to their great locations in downtown Chicago and extremely low minimum bids," said Daniel J. Hyman, president of Millennium Properties. "The Loop remains one of the most desirable locations for businesses, investors and residents."
"Through this auction, investors and users looking for space in the Central Loop will be able to purchase a highly visible commercial condo with a long window line, perfect for office or retail use." said Greg Block, executive vice president of Millennium
A leading real estate brokerage and asset management firm, Millennium Properties R/E, Inc. was founded in 1996 and has completed more than $4.3 billion in sales. Millennium Properties presently manages approximately 2.5 million square feet of space throughout the Chicagoland area, including industrial, office, retail and multi-family properties. The firm also provides a number of other real estate related services, including receiverships, live and sealed-bid auctions, consulting and construction management.