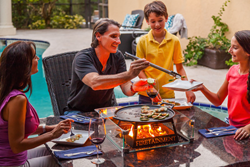 "We are honored to be selected by Phil Kean to feature Firetainment Fire Pit Tables at the 2017 International Builders Show."
(PRWEB) January 05, 2017
Award-winning custom home designer and builder Phil Kean has selected Firetainment Inc.'s industry renowned fire pit tables to feature in his 2017 New American Home Design at the 2017 International Home Builders Show.
The International Builders Show (NAHB) is the largest annual show of its kind in the world. Each year the most advanced building products and services are brought together to showcase the latest in technologies, products, and materials.
"We are honored to be selected by Phil Kean to feature Firetainment Fire Pit Tables at the 2017 International Builders Show", stated Shawn Clark, Firetainment Inc. CEO
The New American Home, with a market price in excess of $4 million dollars, will feature Firetainment's custom dining, bar and fire pit table products in a strive for the highest level of energy efficiencies.
The International Builders Show will be held on January 11-13, 2017 in Orlando, Florida with an expected attendance of more than 50,000 people.
Discover more about Firetainment's fire pit tables HERE.
Founded on the idea of bringing family and friends back around the dinner table, Firetainment Inc. continues to dominate the outdoor entertainment industry and offer the best quality products Made in America.
About Firetainment Inc.
Founded in 2010, Firetainment Inc. designs and manufactures granite, concrete and copper top fire pit tables for home and commercial outdoor use out of their Orlando manufacturing center. Known as "The Fire Pit Table That Cooks.", Firetainment's fire elements are one of the most unique outdoor living products on the market today, combining the use of a patio table, hibachi grill, and fire pit, all in one piece of outdoor furniture.
Firetainment's fire pit tables have been featured on networks & television shows such as HGTV, DIY, and The Price is Right, as well as many other featured publications within the outdoor industry.
For more information on Firetainment Inc. follow @Firetainment on Twitter and Like them on Facebook.