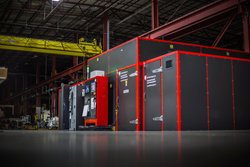 Given Coldwater's design and build experience with laser systems, laser peening is a natural extension of our capabilities. We're honored to be chosen by LSPT and confident this will expand opportunity and benefit both companies.
(PRWEB) January 10, 2017
Coldwater Machine Company (CMC), a leading engineering solutions company that manufactures and integrates assembly automation and special machines for the automotive, appliance, energy and aerospace industries, announced that it has entered into an exclusive manufacturing agreement with LSP Technologies (LSPT) to integrate the Procudo® 200 Laser Peening System into CMC fabricated laser peening cells. LSP Technologies, a laser processing services and equipment supplier in Dublin, OH, is the only company in the world selling, installing, and integrating fully licensed state-of-the-art laser peening equipment into the facilities of its customers.
"With Coldwater's experience in both design and build of various laser systems and workcells, the addition of laser peening solutions is a natural extension of our capabilities," commented Coldwater President Tim McCaughey. "We're honored to be chosen by LSPT and confident that this partnership will expand market opportunity and benefit both companies."
Laser peening is a surface enhancement process that imparts superior reliability and performance into metal parts through improved fatigue life and damage tolerance. A high-energy laser beam is pulsed upon a workpiece to produce a controlled shockwave whose propagation yields a predictable plastic deformation within the material. The plastic deformation generates compressive residual stresses to a much greater depth than conventional shot peening, and in a more controlled pattern. The compressive stresses result in improved fatigue strength of the workpiece, along with increased resistance to foreign object damage. Laser peening has proven to extend the service lifetime of critical metal parts by over 10 times that of an untreated workpiece.
Coldwater Machine will build the equipment based upon the LSPT laser peening system designs. These systems can then be integrated directly into a customer production line. The laser peening systems include an IP license to LSP Technologies' intellectual property, which allows infringement free laser peening, customer training, ongoing equipment service, long-term technical support, and many other process advantages. You can find our more by watching this video: https://youtu.be/CMIbsnwiTc0
For more information about Coldwater Machine's build to spec and integration capabilities, contact Dan Barry at dbarry(at)coldwatermachine(dot)com.
About Coldwater Machine Company
Coldwater Machine Company is a leader in the design, build and integration of specialized equipment for discrete manufacturing with extensive precision-machining capability primarily serving companies in the automotive, aviation, aerospace, appliance and energy industries that are producing products requiring tight tolerances. With over 50 years' experience, the company's key competencies include precision machining and assembly, engineering support, design and build of specialized manufacturing equipment, and solid-state welding/joining systems. For more information, call (419) 678-4877 or visit http://www.coldwatermachine.com.
About LSP Technologies
LSP Technologies is the world's premier laser peening and bond inspection services, technology and equipment provider. LSP Technologies has been providing equipment, job shop services, and production laser peening for all industries and scale since 1995. Clients include major international aerospace and power generation manufacturers, high performance racing companies, tooling and die manufacturers, and customers from many other industries and applications. For more information, visit http://www.lsptechnologies.com/.