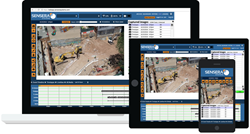 Golden, CO (PRWEB) January 04, 2017
Sensera Systems, a Colorado provider of cloud-based, solar powered construction camera technology, is bringing its latest DIY innovation to the 2017 NAHB International Builders' Show, January 10-12 in Orlando. Featuring the latest technological advancements surrounding efficient and sustainable design and construction, IBS is the perfect venue for Sensera Systems to present its cost-effective, portable solar-powered jobsite monitoring and time-lapse camera systems to the home building industry, which will change the way home builders and project managers can document and promote their projects, as well as support potential claims and disputes.
Visitors to Sensera System's exhibit will have the opportunity to view live demonstrations of its site security and surveillance solutions, including the patented, turnkey MC series which features DIY installation, all-time remote monitoring and management, live streaming, DVR and time-lapse. The lightweight, entirely portable self-powered camera system features an integrated, rechargeable Lithium Iron Phosphate (LiFePO₄) battery pack and 3G/4G/LTE data transfer, making this the perfect solution for job sites with limited or no access to power and internet. Sensera will be offering an early preview of MC26, a solar-powered, wireless live video webcam with time-lapse documentation that is the perfect solution for renovations and short-term construction projects. The cost point and simplicity of the MC26 bring advanced real-time construction site monitoring technology to residential and small project applications for the first time.
Attendees will also have the opportunity to learn more about Sensera Systems' cloud-based, remote management platform. Packed with robust features that users will find easy to use, the Software as a Service provides unique and innovative tools to monitor, document and promote projects of all sizes from any web-enabled device, including smartphones, tablets and PCs. Enhancing the benefits of its intelligent camera technology, the platform gives users access to high-quality video for real-time management, custom administration and camera scheduling for detailed documentation and tools for instantly sharing time-lapse movies and showcasing projects on websites and social media.
Learn how to use this innovative technology to document and share your future projects at Sensera System's NAHB Exhibit #S2790 or visit http://www.SenseraSystems.com.