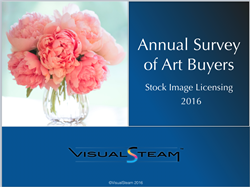 "While buyers say subscriptions are not a primary driver for image licensing, most have at least one, if not more"
New York, NY (PRWEB) January 05, 2017
In the summer of 2016, VisualSteam (http://www.visualsteam.com) launched its annual survey to thousands of US art buyers, art directors, art producers, creative directors, photo editors and marketing professionals to better understand the buying behavior for stock images (still photos and motion). Survey results provide a glimpse into what is driving stock image licensing today, how clients perceive top destinations, and what providers of stock images can do better. Results indicate that nearly all creative pros use stock imagery, and one-third of buyers now use stock in 75-100% of their projects; nearly half are also buying and using motion; all segments have now embraced subscription purchasing.
Leslie Hughes, VisualSteam's President and CEO, said, "Use of images is increasing along with content marketing." Hughes continues, "This year's survey took a look at behavior across different buying segments. We found, for example, that ad/design clients and corporate buyers are more likely to license both stills and motion. Most believe that their use of motion will increase in the coming year, while their use of stills will not."
VisualSteam wants to recognize and thank the sponsors of this year's survey: Digital Media Licensing Association, the trade organization for visual content licensing, and ImageProtect, which provides copyright protection services.
To request a copy of this year's survey, please click here: VisualSteam Survey or email sales(at)visualsteam(dot)com.
For more information about VisualSteam, please go to http://visualsteam.com, or email info(at)visualsteam(dot)com.
About Visual Steam
VisualSteam is a marketing and sales services organization that specializes in visual content markets. We work with producers, creators, and distributors to help them better understand and respond to market needs, and define strategies for expansion and execution. We also work with clients/image consumers and content marketers to help them acquire and manage visual content.