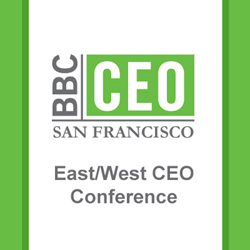 The East/West CEO Conference is an excellent forum to kick off the year as it brings together life science leaders from across the world for a two-day, off-the-record discussion of the challenges and opportunities facing the biopharmaceutical industry
SAN FRANCISCO, CA (PRWEB) January 04, 2017
Leading CEOs from the New York, Boston, California, Europe and Asia biotechnology, pharmaceutical, and healthcare investing communities will gather at the 2017 East/West CEO Conference.
The East/West CEO Conference is an off-the-record networking forum for leading executives in the life sciences, offering exclusive access to key decision makers who influence deal making and investment. Attendees gain insights from presentations and panels featuring CEOs from several of the world's leading biopharmaceutical companies. Healthcare and finance investors also attend this world class meeting, held January 7-8, 2017, at The Four Seasons San Francisco, 757 Market Street, San Francisco, CA.
Panel topics include Private Company Perspectives on Raising Capital and Partnering, Ensuring Diversity and Inclusion, Global Markets: Biotech Access Across Borders, New Trends in Oncology & Immunotherapy, State of the Healthcare Industry: Building a Sustainable Future, Mid-Cap Biotech: Challenges and Opportunities and many more.
"The East/West CEO Conference is an excellent forum to kick off the year as it brings together life science leaders from across the world for a two-day, off-the-record discussion of the challenges and opportunities facing the biopharmaceutical industry," stated Joel Marcus, chairman, chief executive officer and founder of Alexandria Real Estate Equities, Inc./Alexandria Venture Investments. "Alexandria is proud to sponsor and participate in this event, which features fireside chats and moderated discussions between senior life science executives and investors and provides a unique networking and information-sharing platform."
Pierre Jacquet, Managing Director and Global Head, Biopharmaceuticals and Life Sciences practice, L.E.K. Consulting adds, "The East/West CEO Conference provides an ideal setting for senior executives to share their latest thinking on the most pressing issues. In-depth discussions with our clients at this event and afterwards often spark new insights that can have tremendous impact on their businesses amid increasingly complex challenges in the industry."
The East/West CEO Lifetime Achievement Award will be presented Sunday, January 8th at 3:50 pm.
East/West CEO is sponsored by Alexandria, L.E.K. Consulting, Codexis, Fenwick & West, LLP, ICON plc, Johnson & Johnson Innovation, IDA Ireland, Park Square Executive Search, PPD and BioPharma Executive Council.
For more information or to register for the conference, visit: http://bbbiotechconference.com/conference-details.php?id=54
ABOUT BOSTON BIOTECH CONFERENCES
The Boston Biotech Conferences (BBC)'s mission is to build a vibrant community of biopharma leaders, which will help to drive innovation in biotech by convening leaders across industry and academia.
The conferences are exclusive, thought-leader forums for senior biopharma executives. Each conference is highly interactive and co-hosted by healthcare industry leaders to foster discussions and facilitate information-sharing, networking and corporate development within the biopharma community. These off-the-record forums bring together the past, present and future leaders in the healthcare community to network, exchange ideas and share insights into the industry's challenges and opportunities.