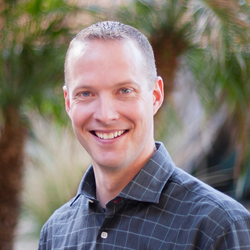 We're celebrating the win of getting him on the team, and I'm looking forward to seeing where the future takes us.
Tempe, Arizona (PRWEB) January 05, 2017
Resound, a locally-based branding team, announced the addition of Eric Myers to its leadership ranks as the new Director of Creative Services. Myers, whose core skills center around content development, team leadership, account management, and client services, also brings an intriguing patchwork of law enforcement, training, startup, and corporate experience to the table.
"I've always been a bit of a dark horse; one to fly under the radar" said Myers. "I've kept my digital footprint small and have consciously chosen to prioritize depth of relationship over breadth when it comes to my own personal brand. I suppose that's a bit old school of me, but I cherish real and lasting connections. And maybe that's part of the reason why this fit with Resound is so appealing. That's what they want from their client relationships and that's what I love to do."
Mike Jones, Managing Partner at Resound, said the decision to bring Myers aboard was based on more than just his philosophy on leadership and client relations. "Eric has navigated some really challenging situations and come out on the other side with optimism and energy. He's the right mix of creative, yet professional – and candid, yet tactful. He's poised when the pressure's on. I know some people who have worked with him in the past, both as teammates and as clients, and they'd go to war with him any day. I'm really glad to have a leader like that on the team."
The addition of Myers to the Resound team is primarily an extension of Resound's passion for authentic relationships, as Myers's role is primarily growing team relationships and delighting clients. With Myers at the helm of day-to-day creative and client operations, Jones plans to focus on strategically growing Resound's footprint and launching some creative side projects. "We're celebrating the win of getting him (Myers) on the team, and I'm looking forward to seeing where the future takes us."
Resound is a brand agency based in Tempe, Arizona. Since 2009, they've been serving clients in Arizona and across the country, building authentic brand experiences that resonate with real people (and keep them coming back for more).