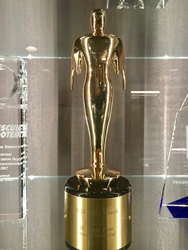 Memphis, TN (PRWEB) January 05, 2017
The Telly Awards has named the ARS animated TV Spot as a Bronze winner in the "Regional TV & Multi-Market Cable – Professional Services" category. The spot was created by Owens Harkey Advertising on behalf of ARS, a Memphis, Tenn. based, privately-held national provider of air conditioning, heating and plumbing services. With over 13,000 entries from all 50 states and numerous countries, this is truly an honor.
"The Telly Awards has a mission to honor the very best in film and video," said Chris Mellon, Chief Marketing Officer of the ARS/Rescue Rooter. "Owens Harkey Advertising's accomplishment made on behalf of ARS illustrates their creativity, skill, and dedication to their craft and serves as a testament to great film and video production."
ABOUT AMERICAN RESIDENTIAL SERVICES: Based in Memphis, Tenn., privately-owned ARS operates a network of more than 70 locally-managed service centers in 22 states, with approximately 5,500 employees. The ARS network features industry-leading brands including, A.J. Perri, Aksarben ARS, Allgood, Andy's Statewide, ARS, Aspen Air Conditioning, Atlas Trillo, Beutler, Blue Dot, Brothers, Columbus Worthington Air, Conway Services, Efficient Attic Systems (EAS), Florida Home Air Conditioning, Green Star Home Services, McCarthy Services, Rescue Rooter/ Proserv, Rescue Rooter, RighTime Home Services, RS Andrews, The Irish Plumber, Unique Services, "Will" Fix It, and Yes! Air Conditioning and Plumbing. United by Exceptional Service®, the ARS / Rescue Rooter Network serves both residential and light commercial customers by providing heating, cooling, indoor air quality, plumbing, drain cleaning, sewer line, radiant barrier, insulation and ventilation services. Each location has a knowledgeable team of trained specialists, who have undergone rigorous drug testing and criminal background checks. Providing exceptional service and ensuring the highest standards of quality, ARS has the experience to do any job right – the first time, with all work fully guaranteed.
ABOUT THE TELLY AWARDS: The Telly Awards was founded in 1979 and is the premier award honoring outstanding local, regional, and cable TV commercials and programs, the finest video and film productions, and online commercials, video and films. Winners represent the best work of the most respected advertising agencies, production companies, television stations, cable operators, and corporate video departments in the world. A prestigious judging panel of over 500 accomplished industry professionals, each a past winner of a Silver Telly and a member of The Silver Telly Council, judged the competition, upholding the historical standard of excellence that Telly represents. To find out more about the Telly Awards visit our website at http://www.tellyawards.com.
###