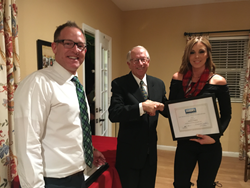 Twentynine Palms, CA (PRWEB) January 04, 2017
Coldwell Banker Coldwell Banker Roadrunner Reality of the Yucca Valley recently hosted their annual holiday party, and in addition to the normal festivities, the firm took the chance to recognize their top Realtors. According to agency owner Jeff Poland, "Our annual party always serves both to celebrate the holiday season and to recognize our stars during an awards program. This year, I am thrilled that we had so many top Realtors to recognize."
The party took place on December 8, 2016, and awards were handed out to seven individuals who were recognized as top Realtors. Realtor Andy Patel was given the 2016 Top Producing Agent Platinum Award. Patel sold $7,330,474 in real estate in 2016. The team of Lisa and Rod Manke were awarded the 2016 Top Producing Agent Gold Award. Team Manke ended 2016 with $5,801,128 in sales.
The 2016 Top Producing Silver Award went to Jessica Thiele with $4,588,250 in sales. Two awards were given in the 2016 Top Producing Agent Bronze Award category. Agent Tom Koptis finished the year with $3,980,700 in sales and agent Bob Keeling came in close behind with $3,561,800 in sales.
The final two awards recognized agents at the ends of the experience spectrum. Herb Brewer was recognized with the 2016 Top Producing Agent Mentor Award with $3,313,825 in sales and the final award went to Jessica DeLuca who was presented the 2016 Top Producing Agent Rookie Award with $1,746,875 in sales.
Coldwell Banker Roadrunner Realty is a leading agency in the Yucca Valley and their Realtors are expert in helping clients find properties throughout the Yucca Valley, including the communities of 29 Palms, Joshua Tree, the Morongo Valley and Pioneertown. The Realtors at the agency as consistently recognized for their client service.
To learn more, visit the Coldwell Banker Roadrunner Realty website at http://www.cbroadrunner.com/ or call 760-365-8880 to speak with an agent.
###