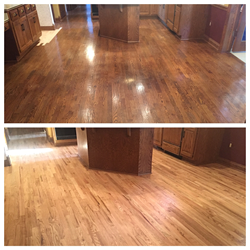 Our hope is that, with a little effort on educating our customers, they are going to see the value of saving and restoring their old hardwood floors.
Milwaukee, WI (PRWEB) January 06, 2017
Royal Wood Floors was recently contacted to service the hard wood floors of the mayor of Brookfield, WI. Mr. & Mrs. Ponto had hard wood floors that needed to be brought back to their natural beauty. And so, contacted Royal Wood Floors for a free estimate and evaluation of what would be needed to efficiently and affordably meet their needs.
Once the professionals at Royal Wood Floors were able to evaluate the condition of the wood floors it was determined that the right course of action would be to sand and re-coat or perform a restoration to not only bring back the natural wood beauty but to effectively extend the life of the wood floor altogether. The project was 600 square feet in total. It was an older floor with a medium color stain, and they wanted a lighter more natural look.
"We went with a very light tint in the finish in order to really bring out the warm tones in the wood," says Keith Allman who is the owner of Royal Wood Floors. From beginning to end, the job took a total of two days. "Our hope is that, with a little effort on educating our customers, they are going to see the value of saving and restoring their old hardwood floors. Armed with a little bit of knowledge, they will more often choose the refinishing path or the finishing on-site option, the only one that can give them customized, unique and truly spectacular results," adds Allman.
"Refinishing" hardwood floors is on the wish list of many homeowners. The term is often used by wood floor owners as a more technical one for "getting floors back in shape." However, there is more than one way to get floors back in shape, and sanding and refinishing is just one of the solutions. The difference between sanding and buffing as wood floor restoration techniques comes down to the level of damage they address. Sanding removes the damaged polyurethane sealer and part of the damaged wood. Sanding and sealing with new coats of polyurethane was necessary as mentioned earlier to give the wood a light tint and really bring out its natural tones.
In addition to properly sanding the wood floors, the Royal Wood Floors specialists can also Buff & Coat wood floors which will also bring back the natural beauty of the wood. A buff and coat treatment consists in the removal of your wood floor's protective layer, followed by the application of a new top coat. The process is simple and, depending on the size of the project, is usually done in one day. Only the surface hardwood floor coating is replaced, so the top layer keeps protecting your floors as it should. And because it is a simpler project than a full wood floor restoration project, the cost is only about half the price of a sanding and refinishing job.
For more information about this experienced and professional hardwood floor restoration and new installation company, or to schedule repairs by these wood floor refinishing contractors, or learn about custom wood styles or the company's inlay and medallion installation services, phone Keith Allman at 414-378-2066. Easy estimates and appointments are currently available through the company's website, http://royalwoodfloor.com/. The company provides top craftsmanship and cares for many types of custom and domestic wood. Visit the company's website for examples of previous work.