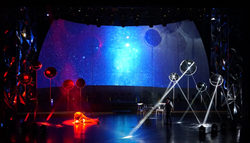 The Hugo Award Sci-Fiction work recommend by Obama and Mark Zuckerberg has been brought to the stage.
(PRWEB) January 05, 2017
The team of Shanghai Lotus Lee Culture & Communications CO., Ltd, has arrived NYC yesterday to attend the Association of Performing Arts Presenters (APAP) conference. Lotus Lee, the founder of Lotus Lee Drama Studio, has announced that a never before witnessed experience of 3D Sci-Fi Drama named "The Three-Body Problem" will meet the audience in NYC soon in 2017 and the studio is looking for cooperation opportunities.
This science fiction 3D show, "The Three-Body Problem" drama, is based on the famous novel The Three Body Problem written by the well-known Chinese Writer Liu Cixin. The book became the first science fiction novel in Asia to win the coveted Hugo Award for Best Novel, a major milestone in the history of Chinese science fiction. Also, after reaching the U.S. in 2014, it wound up on the reading lists of President Obama and Facebook founder Mark Zuckerberg. This sci-fi masterpiece, written by Liu Cixin, uses the "three-body problem" of classical mechanics to ask some terrifying questions about human nature and what lies at the core of civilization. The novel tells a story of a woman named Ye Wenjie, who had been tortured in the dark time of the Cultural Revolution. Having lost faith in humanity, she makes groundbreaking progress in the military's top secret exploration of extraterrestrial civilization, delivering the first message from earth to universe. In doing so, she exposes the earth, endangering human beings. The Trisolarans, in their deep sufferings, hear Ye Wenjie's calling. Longing for a sustainable habitat, the Trisolarans take control of humans' basic science and invade the earth. His book explores variety of subjects including astronomy, physics, history, philosophy, and sociology.
The Three-Body Problem Stage Drama had Cixin Liu, the author of the book, as executive producer, and directed by Liu Fangqi with visual direction by Zhang Xiaofan and choreography by Wang Yu. The script was written by Gu Yi. The show debuted June 1st 2016 at Shanghai Culture Square. With over 95% seat occupancy rate for each of the show, The Three-Body Problem Drama broke the record of Shanghai Culture Square and brought lots of attention and discussion in China. In 2017, it will bring an even better entertainment experiences for US audience.
This show will be a treat for the Sci-Fi lovers and for the other art admirers. It is the outcome of sheer dedication of Lotus Lee Culture. Show becomes livelier on stage with cutting edge stage technologies. NYC Spectators would have never witnessed such mesmerizing stage presence loaded with scintillating 3D technologies.
For more information, Kindly visit: http://www.lotus-lee.com/LotusLee.html
About The Three-Body Problem Stage Drama:
Presented by: Lotus Lee Drama Studio
Chief Producer: Lotus Lee
Production Supervisor: Liu Cixin
Director: Liu Fangqi
Visual Director: Zhang Xiaofan
Script Writer: Gu Yi
Choreographer: Wang Yu