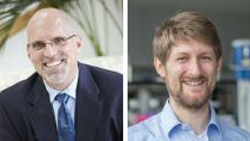 Yorba Linda, Ca (PRWEB) January 04, 2017
The study of the tumor ecosystem and its cell-to-cell communications is essential to enable an understanding of tumor biology, to define new biomarkers to improve patient care, and ultimately to identify new therapeutic routes and targets. To study and understand the workings of the tumor ecosystem (TME), highly multiplexed image information of tumor tissues is required. Such multiplexed images will reveal what cell types are present in a tumor, their functional state, and the type of cell-cell interactions that are present.
To enable multiplexed tissue imaging, the group of Bernd Bodenmiller at the university of Zurich developed the imaging mass cytometry (IMC). IMC is a novel imaging modality that uses metal isotopes of defined mass as reporters on antibodies and currently allows the visualization of more than 50 proteins simultaneously on tissues with subcellular resolution.
CST has sponsored a new webinar where Bernd Bodenmiller will share case studies on the application of IMC for the analysis of hundreds of breast cancer samples in a quantitative manner. Attendees will learn of the findings showing that IMC provides targeted, high-dimensional analysis of cell type, cell state and cell-to-cell interactions within the TME at subcellular resolution.
Through this webinar attendees will also learn about the novel imaging technique imaging mass cytometry (IMC). In the near future, the scientific community will be able to visualize more than 100 proteins, making highly specific, reproducible and deeply validated antibodies essential for IMC and other multiplexed antibody-based method.
The two speakers for this webinar will be Dr. Bernd Bodenmiller, professor of quantitative biology from University of Zurich, and Dr. Randall Wetzel, the director of cytometry at Cell Signaling Technology.
Bodenmiller studied biochemistry at the University of Bayreuth and ETH Zürich, earning a doctorate for his work on system-wide signaling network analysis. Currently his group is developing methods for highly multiplexed imaging by mass cytometry to unravel how trans-cellular signaling network interactions in the tumor microenvironment drive cancer development and ultimately might be exploited for therapeutic targeting.
Wetzel received his doctorate in neuroscience from Boston University. He then went on to work as a research fellow at Harvard Medical School before joining Cell Signaling Technology in 2002. He is currently the director of cytometry at Cell Signaling Technology, where he oversees antibody testing and validation in imaging and flow cytometric applications.
The webinar, hosted by LabRoots, will be presented on January 27, 2017 at 7 a.m. EST, 1:00pm CET. For full details about the event, continuing education credits through P.A.C.E., and to register for free, click here.
About Cell Signaling Technology
Cell Signaling Technology is a private, family-owned company, founded by scientists and dedicated to providing high-quality research tools to the biomedical research community. The company's employees operate worldwide from its US headquarters in Massachusetts, and offices in the Netherlands, China, and Japan.
About LabRoots
LabRoots is the leading scientific social networking website and producer of educational virtual events and webinars. Contributing to the advancement of science through content sharing capabilities, LabRoots is a powerful advocate in amplifying global networks and communities. Founded in 2008, LabRoots emphasizes digital innovation in scientific collaboration and learning, and is a primary source for current scientific news, webinars, virtual conferences, and more. LabRoots has grown into the world's largest series of virtual events within the Life Sciences and Clinical Diagnostics community.