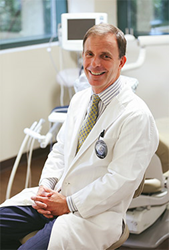 Winston-Salem, NC (PRWEB) January 04, 2017
People who live with receding gums or a gummy smile in Winston-Salem, NC, can now visit Dr. Kenneth Peavy, who is currently accepting new patients for cosmetic periodontal surgery. Dr. Peavy, who holds over 20 years of experience performing surgery as a periodontist, offers crown lengthening to shorten the length of the gums and the Chao® Pinhole Surgical Technique to correct gum recession. Both procedures can provide significant long-term health benefits in addition to helping patients achieve more esthetic smiles.
During crown lengthening, Dr. Peavy creates a higher gumline by permanently removing gum tissue that covers too much of the tooth. This procedure, which may take as little as one hour, can concentrate on just a few teeth or a patient's entire dental arch. Dr. Peavy typically uses this treatment to improve the appearance of a gummy smile in Winston-Salem, NC, but as an experienced periodontist, he may also recommend the procedure for its functional benefits. If a patient's tooth is not long enough to anchor a restoration, or if a tooth has suffered damage below the gumline, functional crown lengthening may enable the patient to receive necessary restorations.
Dr. Peavy can also address gum recession and elongated teeth with the minimally-invasive Chao® Pinhole Surgical Technique, which offers immediate cosmetic improvements and long-term health benefits. During this procedure, Dr. Peavy makes a tiny pinhole incision in the gums. He then works through the incision to loosen the gum tissue and reposition it to cover more of the teeth. This gum grafting alternative eliminates the need for large incisions and sutures. It also reduces the risk of many long-term health problems associated with gum recession, including infection, gum disease and tooth loss.
People who would like more information about these procedures are urged to visit Dr. Peavy's website at http://www.happygumshop.com. To schedule consultations with a periodontist about treatment options for receding gums or a gummy smile in Winston-Salem, NC, patients should visit the website or call Dr. Peavy's office directly at (336) 774-3001.
About the Doctor
Dr. Kenneth Peavy is a periodontist offering personalized dental care for patients in Winston-Salem, NC, since 1996. Dr. Peavy completed his undergraduate studies at the University of North Carolina at Chapel Hill. He earned his dental degree at the Medical University of South Carolina in 1989, College of Dental Medicine. He finished his residency program in General Dentistry at the Medical College of Georgia and his certificate in periodontics at the Medical University of South Carolina. He also earned his Master's Degree in Health Sciences. Dr. Peavy joined an exclusive group of doctors to offer The Pinhole Surgical Technique (PST™) for gum recession treatment. To learn more about Dr. Peavy and his dental services visit his website at http://www.happygumshop.com and call (336) 774-3001.