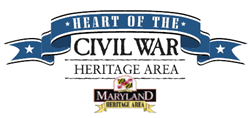 (PRWEB) January 05, 2017
The Heart of the Civil War Heritage Area (HCWHA), a certified heritage area encompassing parts of Carroll, Frederick and Washington counties, announces a grant opportunity for FY18 projects through the Maryland Heritage Areas Authority (MHAA).
MHAA offers nonprofit organizations and government entities grants of up to $50,000 for non-capital projects (including planning, interpretation, and programming) and up to $100,000 for capital projects (including acquisition, pre-development, development, rehabilitation, and restoration) within the boundaries of the Heritage Area.
The grant application is entirely online at mht.maryland.gov/grants.shtml. The intent to apply form is due on January 27. Applicants are encouraged to submit drafts to their local grant contacts and HCWHA staff by February 10 in order to make revisions to the application due on March 2.
Prospective applicants should begin the grant process by communicating with their local grant contacts:

Carroll County: Andrea Gerhard, Comprehensive Planner, Carroll County Bureau of Comp. Planning, agerhard(at)ccg(dot)carr(dot)org or 410.386.2145
Frederick County: Denis Superczynski, Principal Planner, Frederick Co. Community Dev. Division, dsuperczynski(at)frederickcountyMD(dot)gov or 301.600.1142
Washington County: Rachel Nichols, Washington County Heritage Area Assistant, rbknichols(at)gmail(dot)com or 240.308.1740
For more general questions about the grant program, contact Heritage Area staff at (301) 600-4031 or info(at)heartofthecivilwar(dot)org.