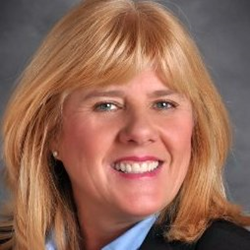 "I'm excited to start connecting my new colleagues with my old ones to benefit home buyers across our service area."
Edina, MN (PRWEB) January 04, 2017
A growing player in the mortgage industry will jump into 2017 with a major hire aimed at expanding its partnerships with credit unions and community banks, the company announced today.
Vickie King-Ganrude joins Marketplace Home Mortgage's Financial Institutions Division (FID) as an account executive bringing more than 25 years of banking and credit union experience. She'll tap her extended network of professional contacts to grow Marketplace's unmatched service across the Midwest.
"Marketplace had a stellar 2016, expanding into new markets, and adding new clients while remaining committed to our core values of customer service and professionalism," said Brad Smeed, Vice President of FID. "Vickie's background is going to help push us to higher levels."
Banks and credit unions work with Marketplace's Financial Institutions Division to offer their clients access to additional mortgage products and services. For example, smaller credit unions may not have the expertise or staff to offer complex mortgage products to their members. But with Marketplace's expertise, focus on compliance, and reputation behind them, these relationships are able expand their offerings and improve their customers' lives.
Marketplace offers an array of products in addition to its conventional loans, such as jumbo loans (up to $3 million), USDA rural housing loans, reverse, and products for new construction.
King-Ganrude spent six years leading business development efforts at the Minnesota Credit Union Network. She understands credit unions' needs and how Marketplace's expansive set of programs can best serve them.
"Credit unions and banks are looking for attractive mortgage products like Marketplace's," King-Ganrude said. "I'm excited to start connecting my new colleagues with my old ones to benefit home buyers across our service area."
Hiring King-Ganrude is a priority in Marketplace's long list of plans for growth in 2017, said CEO Keith White. "We're starting the year the same way we ended the last one – by adding talented players to our team. If 2016 was any indication that dedication to quality will continue to serve Marketplace well."
About Marketplace Home Mortgage:
Marketplace Home Mortgage provides complete mortgage services to real estate professionals, builders and individual homebuyers. The company has built its reputation on competitive terms and swift and accurate processing with no surprises. Each step is carried out by our experienced and highly trained staff, who embrace the highest ethical standards under absolute transparency. Marketplace is based in the Twin Cities of Minnesota, with offices in Florida; Duluth, Minn.; Omaha, Neb.; Milwaukee, Madison, and Green Bay, Wis.; and newly opened offices in Sioux Falls, S.D., New Hampshire, Michigan, as well as Denver and Westminster, Colo. Learn more on Facebook or Twitter. Reporters and Editors: to schedule an interview with a mortgage expert in your market, contact Robb Leer 612.701.0608 or robbl(at)leercommunication(dot)com.