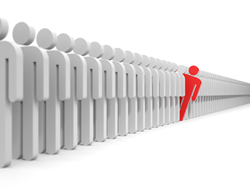 It's simple - you either take care of your customers or your competitors will!
Kure Beach, NC (PRWEB) January 11, 2017
Technology has leveled the playing field into a sea of sameness. Standing out in a crowded marketplace is getting harder to do today. Products, services, store designs and prices, can and are, easily replicated by competitors. What is not easily replicated is great customer service. Why? Because consistently delivering great customer service is hard. If it were easy, great service would be the norm not the exception. Organizations like Amazon and the Ritz Carlton hotel stand alone because they stand for customer service in the minds of their customers, not the product they sell.
Every organization that has customers should strive for loyal customers, not casual customers. Customer satisfaction is worthless because satisfied customers will and do defect. Customer loyalty is priceless. Customer loyalty - true loyalty, is through the heart, not the wallet with frequent purchase programs. Customer loyalty is put to the test at every transaction. Organizations either pass or fail. Service is all about emotion and emotion is all about attitude.
Differentiating a brand through customer service is about: customer segmentation and targeting, understanding customer needs, expectations, and perceptions, knowing who the most profitable customers are, identifying customer touch points, gaining real-time customer insight, defining a WOW buying experience, and preparing employees with scripts, tactics, and service failure recovery strategies,
To help organizations differentiate their brand through customer service, a new customer service mini-book (71 pages) has been released: Customer Service – The Ultimate Differentiator.
This how-to book is a quick read, easy to comprehend, and packed with actionable insights and daily customer service tactics. It includes:
1. 12-customer service words to avoid and use.
2. 3 methods to gaining customer insight.
3. 6-key metrics to measure progress.
McKenna's mini-books are priced so that every employee in the organization can have their own personal copy - a small investment to maximize ROI on an organization's largest investment: people. Mini-books provide organizations the peace of mind and confidence that their employees are prepared to consistently deliver the best customer buying experience in their respective industry. In today's hyper competitive market, it's Perform or Perish!
Order your copy today for only $9.95 at: http://www.terrymckennabooks.com.
###
Company: Terry McKenna is Principal and co-founder of Employee Performance Strategies, Inc., (EPS), a leadership development and organizational design consulting firm. EPS helps retail organizations maximize their financial results by maximizing the job performance of their workforces. For more information about this topic, please visit: http://www.terrymckennabooks.com.