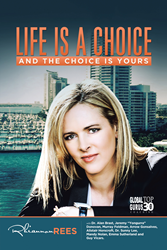 AUSTRALIA (PRWEB) January 04, 2017
In time for New Year's resolutions, one of the world's best self-development experts, Rhiannon Rees, often referred to as Australia's answer to self-help guru Dr. Wayne W. Dyer, has released her latest book, "Life is a Choice and the Choice is Yours."
Rees has helped many individuals and businesses get to the core of their problems and turn them around and is now sharing her expert advice with the rest of the world. Rees along with nine other leading world specialists provide readers with the tools necessary to make changes to create the life and businesses they have always desired.
The book teaches readers how to identify and remove their blocks by breaking down problems into bite-sized pieces. Rees utilizes her professional experiences to provide self-help guidance to success through the methods proven successful for her clients.
"I can help you or your company transform ordinary results into something spectacular," said Rees. "My book is a great starting point for change and my private and group coaching programs help to amplify these efforts to give you the success you deserve."
Rees shares stories and provides exercises to help readers tap into the wealth of their limbic brain and teaches them how to identify the character attributes that impact the bottom line and ways to increase profitability and drive success.
"If you are ready to grab hold of your life by the scruff of the neck then this book is for you. Rhiannon has laid out her successful tools and…in fact, if you really do it all, you will excel," said Olympic Medalist Steve Podborski.
Rees furthers her help to others through her private and self-coaching programs and is available for motivational speaking engagements for corporate and private events.
"Life is a Choice and the Choice is Yours"
By Rhiannon Rees
ISBN: 978-1-4828-3283-9 (hardcover), 978-1-4828-3282-2 (softcover),
978-1-4828-3284-6 (eBook)
Available at the Rhiannon Rees Online Store, Amazon, and Barnes & Noble
About Rhiannon Rees
Global Coaching Guru Top 30, Best-Selling Author and Keynote Speaker Rhiannon Rees knows first-hand her tools for change work as she utilized them on herself. Having overcome unmeasurably tough years, Rees analyzed everything. She immersed herself in self-knowledge to advance spirituality and to gain insight into getting the most out of life. She began a life of gratitude and from that change, greatness flourished. Rees uses her experience and wisdom in captivating speaking engagements and personal coaching sessions that include building business and personal wealth, creating success, finding happiness and more. To learn more about Rees please visit http://www.rhiannon.coach/.
For Interview requests, review copies & general inquires contact:
LAVIDGE – Phoenix
Lauren Dickerson
ldickerson(at)lavidge.com
480-998-2600