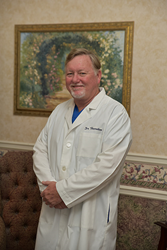 Auburndale, FL (PRWEB) January 09, 2017
Dr. Frederick Thurston now welcomes new patients to visit his practice, Thurston Comprehensive Dental Center, with or without referrals to receive treatment for sleep apnea near Auburndale, FL. Without proper intervention, this condition can put patients at risk for fatigue-related accidents and various chronic health problems. Fortunately, Dr. Thurston has extensive experience treating sleep apnea as a general dentist, and offers several procedures to meet each patient's needs.
As many as 18 million Americans suffer from sleep apnea, according to the American Association for Respiratory Care, but an estimated 10 million have never been diagnosed. This condition, which occurs when breathing is disrupted during sleep, can be difficult to detect because victims often fail to realize they are experiencing sleep disturbances. Dr. Thurston urges his patients to be aware of common symptoms, including drowsiness, morning headaches, abrupt awakenings, loud snoring and difficulty sleeping through the night. People who are at higher risk for sleep apnea —including men, overweight adults and people with enlarged tonsils—should pay special attention to these warning signs.
Dr. Thurston encourages patients who believe they suffer from sleep apnea near Auburndale, FL, to promptly visit a dentist for diagnosis and treatment. Dr. Thurston offers comprehensive consultations and uses multiple techniques to treat the most common form of this disorder, obstructive sleep apnea, which occurs when bodily tissue blocks the airway during sleep. These treatments range from the use of orthodontic appliances that prevent airway obstruction to surgery that permanently prevents airway blockages. These interventions can spare patients from various complications associated with sleep apnea, including high blood pressure, stroke, heart attack and heart failure
People who believe they suffer from this disorder and wish to speak to a dentist about options for treating sleep apnea in Auburndale, FL, should schedule consultations with Dr. Thurston by calling (863) 967-7548. Patients can also visit Dr. Thurston's website at http://www.drthurston.com to request appointments or learn more about sleep apnea symptoms and treatments.
About the Practice
Thurston Comprehensive Dental Center, Inc. is a general practice offering personalized dental care for patients in Auburndale, FL. Dr. Frederick D. Thurston received his Dental Degree from the University of Florida in 1979. He started the practice in 1980 and has been practicing implant dentistry since 1989. Dr. Thurston stays up to date with the latest advancements in technology and is committed to continuing education. To learn more about Thurston Comprehensive Dental Center, Inc. and the services they provide, please visit their website at http://www.drthurston.com or call (863) 967-7548.