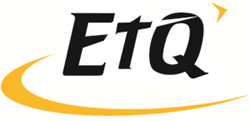 The Reliance and Traqpath integration represents the ability for EtQ's compliance platform to connect quality, safety and compliance throughout all levels in the industry
(PRWEB) January 04, 2017
EtQ today announced integration between its flagship, enterprise compliance platform, Reliance, and its free, cloud-based compliance tracking solution, Traqpath.
Another industry first for EtQ, this integration fully automates the Supplier Corrective Action Request (SCAR) process and extends quality and compliance practices to suppliers.
Integration means that customers will now be able to:

Link to suppliers and external stakeholders
Assign SCARS to suppliers through Traqpath
Receive responses automatically into Reliance SCAR records
"The Reliance and Traqpath integration represents the ability for EtQ's compliance platform to connect quality, safety and compliance throughout all levels in the industry," stated Glenn McCarty, chief executive officer at EtQ. "This is the first of several planned integrations between EtQ's other product offerings, and is only the beginning of EtQ's vision of an interconnected compliance community for all."
You can access Traqpath over the Web or on your mobile device through the App Store or Google Play.
About EtQ
EtQ is the leading Quality, EHS, Operational Risk and Compliance management software provider for identifying, mitigating and preventing high-risk events through integration, automation and collaboration. At the core of EtQ's framework is a compliance management platform that enables organizations to implement best-in-class compliance processes configured to meet their existing processes, create new compliance processes and automate and control their compliance ecosystem. EtQ's product lineup includes Traqpath™ for individual compliance users, Verse Solutions™ for small to medium sized businesses and Reliance™ for enterprise organizations. EtQ was founded in 1992 and has main offices located in the U.S. and Europe. To learn more about EtQ and its various product offerings, visit http://www.etq.com or blog.etq.com.