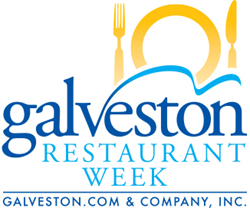 #CelebrateDelicious This January on Beautiful, Tropical Galveston Island!
Galveston, TX (PRWEB) January 05, 2017
The sixth annual Galveston Restaurant Week - Saturday, January 7th to Sunday, January 22nd, 2017 - brings Galveston Island's vibrant food scene to life for two full weeks of delicious dining. The event will showcase the freshest ingredients, most flavorful dishes and tastiest culinary gems that Galveston has to offer, as well as benefit Access Care of Coastal Texas.
Home of the finest Gulf Coast seafood and some of Texas's most delectable restaurants, Galveston Island proudly welcomes visitors to Galveston Restaurant Week, where patrons can choose from Galveston's most delightful and delicious eateries for prix-fixe lunch and/or dinner menus. New this year, 2 and/or 3-course dinners will be priced between $20-$35; and 2-course lunches, breakfasts, & brunches will cost between $10-$20.
Last year's event featured a vast array of Galveston Island eateries, and resulted in a very welcome boost during the Island's slower season of winter. Over thirty restaurants to date have committed to the 2017 event.
Eat, Click, & Share
One lucky photographer will win $500 cash, for capturing "Best Photo" in the Galveston Restaurant Week #CelebrateDelicious Photo Contest.
Website visitors are encouraged to post photos either on Galveston.com, our official Facebook page, or simply tagging in Instagram with #CelebrateDelicious. Entries may range from photos depicting particular restaurants; favorite restaurant entrees, waiters, and chefs; to views of outdoor events, picnics, neighborhoods, and festivals.
Submission deadline is January 22, 2017.
Beginning January 23rd, visitors to either Galveston.com or the Official Facebook Page will have ONE WEEK to vote for their favorite photo, and one lucky winner will capture the $500 GRAND PRIZE on February 1, 2017. Best of luck!
Restaurant of the Year
Galveston Restaurant Week returns this month, and with it comes the 4th Annual Restaurant of the Year contest. Continuing thru January 19th, the public is invited to vote for their favorite participating Island eatery. At the end of the voting period, the restaurant with the most votes will be named Galveston Restaurant Week Restaurant of the Year. Full details at GalvestonRestaurantWeek.com.
Help ACCT
And while your taste buds are celebrating delicious, you can put the guilt aside knowing that your participation in Restaurant Week is helping others. This year, each restaurant participating in Galveston Restaurant Week has committed to help Access Care of Coastal Texas provide weekly lunches to its clients. These lunches provide nutrition for persons with HIV or AIDS. Many times this is the only nutritious meal a client may have that day, or sadly, that week.
Join the Fun
Participating in Galveston Restaurant Week is easy. There are no passes to buy, no coupons to carry, and no cards to punch, only a quick call to the restaurant(s) selected to make reservations; then simply dine out during the period January 7-22, 2017. Reservations are strongly recommended.
The public is invited to experience cuisine that will highlight the fun of dining on Galveston Island. Quite simply, this new culinary tradition promises to "celebrate delicious!" like no other event of the year.
To book Galveston Island lodging and exclusive packages during 2017 Restaurant Week, visit Galveston.com, or call the Galveston.com toll-free Lodging Hotline at (888)939-8680.
2017 Galveston Restaurant Week Sponsors
Galveston.com & Company is thrilled and honored to have Galveston Island Brewing as the Title Sponsor of Galveston Restaurant Week 2017. Find their locally brewed beer at over 35 of Galveston's premiere restaurants.
The event is also sponsored in party by Houstonia Magazine, the smartest, most authoritative and up-to-the-minute take on Houston, featuring the GASTRONAUT app, available on iTunes or Google Play.
Other media partners include Galveston Monthly Magazine, Galveston's most widely distributed monthly publication, as well as OutSmart Magazine, offering local and national news for the Houston-area LGBT audience.
About Galveston Island
Galveston Island is a historic beach town located on the Gulf of Mexico just 50 miles from Houston. The island is best known as a vacation destination, offering 32 miles of beaches, a variety of family attractions, Texas' premier cruise port and one of the largest and well-preserved concentrations of Victorian architecture in the country. For more information on Galveston Island visit http://www.galveston.com or call 1-888-GAL-ISLE.
About Galveston.com & Company
Galveston.com & Company, Inc. is a destination marketing corporation based in Galveston, Texas. The company specializes in destination portals, as well as online lodging, cruise, parking, and transportation reservations; and event ticketing via its proprietary DestinationNext module.
For more information, contact Galveston.com & Company via phone (409)763-8676.