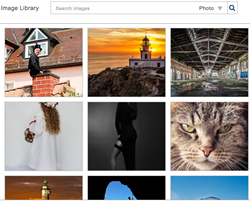 These features will prove to be a competitive advantage that solves a variety of pain points for our customers.
PALO ALTO, CA (PRWEB) January 05, 2017
eClincher announces today new linking features to empower marketers with more control over how they share and edit content. The features allow social media managers and other users to edit link text and accompanying images to have a more customizable social media sharing experience.
eClincher's new editing capabilities include providing users with access to a rich stock photo library plus the ability to upload original images. From there, users can use a dashboard of photo editing features, including adding text and using basic tools available in platforms like Photoshop but without the extra bells and whistles that might be intimidating to those not familiar with Photoshop or other photo-editing platforms.
The second editing component is the ability to customize links. Users posting links to content, such as articles and websites, can shorten these links, make them into default links, and/or incorporate UTM tags into links (which allows them to track Google Analytics results within the link).
eClincher CEO and Co-Founder Gilad Salamander regards these features as a natural step toward fulfilling the company's mission of offering a service that is both intuitive and easy-to-use.
"In addition to being able to schedule posts to all the major social media networks, eClincher users can also edit their images without hiring expensive designers or buying Photoshop. They can select stock images and even edit the links in their posts and track engagement!" said Salamander. "These features will prove to be a competitive advantage that solves a variety of pain points for our customers."
eClincher appeals to anyone managing five or more social media profiles, no matter the platform. Twitter, Facebook, Google+, LinkedIn, Instagram, Pinterest, YouTube, Google Analytics, Blogger, Feedly, Pocket, and Bitly are all supported by eClincher. The service provides a three-fold social media management tool that lets users publish, interact with, and track social media activity.
About eClincher
eClincher is a social media management tool founded by Gilad Salamander in 2013. Designed to find, schedule, publish, and track all online interaction with the support platforms, eClincher offers premier value, efficiency, and organization.