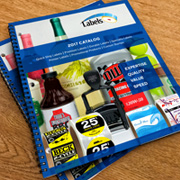 The catalog is our most complete product compendium, but it's also a powerful and productive sales tool for resellers motivated to use it.
Louisville, KY (PRWEB) January 05, 2017
Discount Labels announces the release of its 2017 unbranded catalog for US and Canadian distributors with retail pricing for easy sharing with customers. It's currently available online, and hard copies will be arriving in the mail shortly.
It is a single-source solution that features labels, labels, and more labels in a voluminous array of sizes, shapes, stocks and special effects. The catalog then goes way beyond with a wide array of such products as custom stamps, promotional products, brochures, flyers, embossers, luggage tags, magnets and business cards. There also are specialized effects to make application and placement easier, such as static cling labels. And, to help ensure security, there are tamper-evident labels at the ready.
Enhancing the offerings this year is the completion of the merger of Discount Labels and Lancer Label, which is further ratcheting up selection and capacity. This translates into even better turnaround times and pricing options to accommodate just about any need imaginable.
The online version offers flexible and convenient access, with a personalization option available this year.
Keeping a hard copy handy can be a conversation-starter with customers while they're on-site. Browsing through a catalog and discussing going-forward strategies can be a productive way to plant seeds both for immediate orders and as the year progresses. Make sure to document and follow up on interest shown for particular products and/or activities (e.g., company anniversary, employee acknowledgment, holidays).
Popularity of print catalogs is reported to be on the upswing, carrying on a centuries-old tradition. According to dingley.com, the printed catalog has a long and venerable history, spearheaded by none other than Benjamin Franklin. The site notes, "The first catalog of British America, Benjamin Franklin 1744…So, he invented bifocals and lightning rods, big deal! None of these concepts are quite as cool as the mail order catalog. Yes, it's true; our very own Benjamin Franklin is thought of as the first British American cataloger."
Discount Labels' catalog offerings can be tailored to the needs of any industries, with special focus on health care, automotive, retail, food & beverage, education & athletics, service industries, and political campaigns/programs.
"The catalog is our most complete product compendium, but it's also a powerful and productive sales tool for resellers motivated to use it," notes Brian Webb, Sales Manager at Discount Labels. "Easy availability both digitally and in print makes the opportunity to interest customers in new ideas and products that much easier. Just start the catalog dialog and see where it takes you and your customers. Use it to review the existing relationship. Reference it as a great teaching tool. Brainstorm ways to use these products to full benefit and appeal in their industry. Labels are complementary products to about 95% of all projects. Use labels as a perfect upsell for all of your clients."
About Discount Labels:
Discount Labels specializes in die cut labels, premier labels, durable labels, UL labels, variable data labels, printer labels, magnets, stamps and promotional products for every industry including automotive, construction, healthcare, manufacturing, restaurant and retail. Discount Labels sells through the largest authorized label distributor network in the U.S. and Canada. Eligible dealers are active in one of the following industries: printing, graphic arts, specialty advertising, business forms, packaging and shipping, signs, banners, rubber stamps, or office products. Established in 1965, Discount Labels has grown to be America's largest wholesale label supplier. Find more information at http://www.DiscountLabels.com and visit us on Facebook, Twitter and Google+.