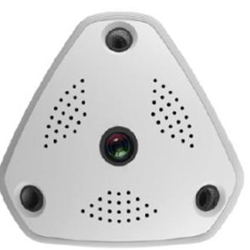 LAS VEGAS, NV. (PRWEB) January 04, 2017
(CES Booth #16038) -- Vivitar, a legacy family brand of fun and affordable tech products, unveils at 2017 CES® this week its expanded smart home line, including a range of new IP security cameras that make it easier than ever to keep your home safe. The new products include a hidden camera disguised as a smoke detector, a doorbell camera for added security at your front door, a camera with a magnetic base that can be mounted anywhere in the home, and a 360-degree camera with built-in motion sensor alert. These latest offerings and more will be previewed at the Las Vegas Convention Center, January 5-8, 2017, at the Central Hall, Booth #16038.
All of Vivitar's new smart home cameras will now come standard with its convenient "Talk 2 U" function, which lets users communicate through the camera's speakers from any location. Vivitar's new IP security cameras, scheduled to be available Q2, include:
IPC 420 360 IP Cam
Keep your home safe with this "stealth" home security camera - cleverly disguised as a smoke detector
Magnetic base makes installation on the wall or ceiling a breeze
Built-in wifi connectivity
iOS and Android compatible
DB-208 IP Doorbell Camera
Never miss a visitor! Vivitar's IP Doorbell Camera starts recording as soon as the doorbell is rung; can also be remotely activated
Built-in MicroSD slot records video locally
Built-in motion sensor alert and night vision mode makes this the ultimate first line of protection for your home
IPC 320 IP Cam
See what your fridge sees! This trusty cam comes with magnetic base and can be mounted virtually anywhere
Built-in wifi connectivity
Compatible with iOS and Android systems
OTA updates available; includes 2GB free cloud memory space
IPC 117 360 IP Cam
This multi-surface mountable camera can be strategically placed virtually anywhere in your home
Built-in motion sensor alert
2GB free cloud space for additional storage
For more information, check out Vivitar at the Las Vegas Convention Center, Central Hall, Booth #16038, or visit http://www.vivitar.com.
About Vivitar
Vivitar designs and manufactures affordable consumer electronics ranging from on-trend digital lifestyle products for millennial consumers to cameras and accessories for amateur and professional photographers. With a rich heritage dating back to 1938, the company's portfolio today spans mobile and audio accessories, cameras, and a constantly evolving array of specialty products in emerging electronics categories. It also is the largest supplier of digital still cameras, camcorders and accessories around the world, harkening back to its origins as an importer of photographic equipment and its subsequent development of industry-leading mass-market cameras, lenses and flashes. A division of Sakar International since 2008, Vivitar is headquartered in Edison, NJ, with offices in the United Kingdom, Latin America, Canada, Australia and Hong Kong, and global retail distribution through more than 100,000 mass market and specialty locations. For more information, visit http://www.vivitar.com or follow the company on social media at Facebook, Twitter, YouTube and Instagram.
###