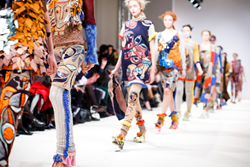 This shift could mean a powerful transition from New York setting the trends to California calling the shots.
(PRWEB) February 03, 2017
There has been a recent trend with fashion designers leaving the fast-paced world of New York design for the West coast, particularly Los Angles. Many people are starting to wonder if this trend has anything to do with fashion in 2017. The Atlantic published an article talking about prominent fashion designers, like Rebecca Minkoff, Tommy Hilfiger, Rachel Zoe and more well-known artists leaving to showcase their newest collection in Los Angeles instead of New York Fashion Week.
SilverTribe.com, the Southwest's leading retailer in Southwest jewelry, gave some speculation as to why more and more designers are forgoing their fashion-forward thrones in New York for the wide open trail that is West coast fashion. The company believes that the rapid expansion of tech companies in California has made the state a booming market for all kinds of industries. Minkoff has partnered with multiple e-commerce sources to showcase her designs. "This strategy is bound to pay off for her in the long run because California and businesses that are firmly planted with e-commerce roots will soon be the new mecca of the fashion industry," claims SilverTribe.com spokesman, Chris Anderson.
The team at SilverTribe.com sees a market for both Southwest fashion and e-commerce as well. Having the advantage of being one of the dominant forces in the industry, the team believes the boom in Southwest fashion is causing people to crave something different. This gives designers the extra boost they need to continue their work and make even more inspired creations, outside the troupes of New York tastes.
In response to this news, SilverTribe.com is launching a new collection of Southwest jewelry to help people usher in the new age of Southwest attire for 2017. Their collection includes various accessories, like turquoise necklaces, sterling silver rings, and multi-stone bracelets.
SilverTribe.com works with some of the most talented Southwest and Native American artists to get their work out into the public. Working with these talented people, the company knows the benefit of combining quality pieces with the power of technology and the pool of Californian businesses.
The company believes that this shift could mean a powerful transition from New York setting the trends to California calling the shots. This would give the fashion industry a splash of that famous Southwest flavor too.
Anderson and his team are excited to be at the ground floor of this new boom and expects to see more people from around the country seeing what the Southwest has to offer the public. Their new release promises to give people a fresh insight on what to wear for 2017.
To learn more about SilverTribe.com and the artists they represent. People can visit their website at http://www.silvertribe.com for more information and great deals.