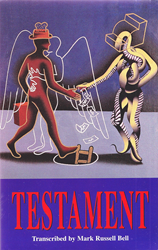 "I ask people to have an open mind until or unless they personally learn about the data concerning my case."
LOS ANGELES, CA (PRWEB) January 09, 2017
"Testament" was published on January 9, 1997 and chronicles how Mark Russell Bell became a metaphysical author after previously having worked in the Hollywood entertainment industry as a movie publicity writer.
The book is available in a free Internet edition and begins with interviews of the Oklahoma family experiencing a gamut of strange occurrences centering on the 'talking poltergeist' known as 'Michael.' The family was seen in a 30-minute segment on the ABC special "Ghosts, Mediums, Psychics: Put To The Test" and on "20/20."
Author Mark Russell Bell recalls about his first conversation with one of the family members: "Immediately there were many noticeable parallels between their experiences and those of the family chronicled in the 19th Century 'Bell Witch' talking poltergeist case in Tennessee."
The "Testament" color photos of diverse anomalous phenomena—including 'ghosts' and apparitions, burned bushes, a bigfoot, and what the Oklahoma family believed to be aliens—were published in greater resolution in a 2015 series of articles at the blog "Metaphysical Articles: Interesting Articles, Links and Other Media" at http://metaphysicalarticles.blogspot.com.
When Bell returned from Oklahoma to Los Angeles, he was shocked to find the strange manifestations continuing to occur in his presence. Bell comments: "The unfortunate thing is that when people first hear about me and any description of what happened, they assume I must be deluded or whatever; however, the transcripts in the book are verbatim. I ask people to have an open mind until or unless they personally learn about the data concerning my case.
"One of the things I learned is that there are patterns interlinking famous documented cases of so-called 'unexplained phenomena.' For example, the 'Michael' pattern is associated with diverse paranormal cases, including Nostradamus, John Dee, Edgar Cayce, and the Fox Sisters connected with the Spiritualist Movement."
After conducting more research and having further enlightening experiences, Bell published "Testament" to inform other people about the occurrences and enable them to vicariously expand their own spiritual and metaphysical awareness by placing themselves in Bell's predicament.
"Readers of the autobiographical documentary-style case study discover that not all of my spontaneous deductions and impressions were initially correct yet after many lessons and years I developed a better understanding of our metaphysical Earth spiritual reality.
"Readers will find that the experiences documented in my book correlate with many of the messages of so-called 'channeled' transcendental communication. I found myself called upon to become an embodiment of some of these teachings."
Recent posts at Bell's blog report about cases of transcendental communication or 'channeling,' including commentary about the 'New Age' for humanity. Bell reflects: "Something that may be surprising to contemporary people first witnessing what has been termed 'Deep Trance,' "Overshadowing' or 'Total Takeover' channeling is that these visitors from the ascended realm are not without a sense of humor."
The Christmas article presented a "Links Index" of blog articles and videos about channeling cases. Among the 44 video links, 'Seth' may be seen speaking through Jane Roberts in a 1974 session and saying: " . . . what you want to be is within you now and within your glowing creaturehood . . . You are blessed because of your being, not damned because of it. As I have told you often, there is a spiritual biology within your being and it speaks through each of your moments . . ."
An undated video clip shows Jach Pursel channeling 'Lazaris,' who is seen commenting: ". . . people look out there — they're looking all over the place as [if] their God were somehow outside of them. It's within. Every spiritual reference, be it fundamental or be it avant-garde speaks of that Spirit within . . . your task in this physical lifetime really isn't to find God because God's everywhere . . . your task in every physical incarnation is to find yourself."
A 1992 video of British medium Gordon Higginson shows him during a channeling session when the message is given: "The Great Master that plans life knows the beatings of your heart, pulsating of your soul and the reason it is given to you to explore the bounds of living . . . I bring these words to you with love and ask that always you will realize the function of God in you . . . each day grow in humility and in divinity."
One of the channeling videos shows a channeled entity in 1985 answering a national USA talkshow host's question about what is the "most important message." The channeled response includes: ". . . When know you that that which is termed 'you are God,' that that which emanates within you is divine, you will find joy."
The first portion of the follow-up book to "Testament" was published on July 20, 1997 exclusively online. For more information, visit http://testament.org or http://metaphysicalarticles.blogspot.com.