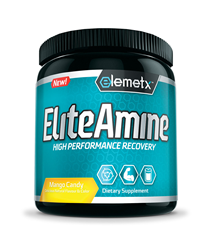 New York, NY (PRWEB) January 09, 2017
Elemetx™ EliteAmine is a multi-function, high-performance supplement powered by Sustamine® L-Alanyl-L-Glutamine for muscle growth and hydration.*
EliteAmine contains a select combination of clinically researched ingredients, including Sustamine®. One 7g scoop combined with 8oz to 16oz of water—one serving during workout and one after—kicks in immediately after exercise with a 2:1:1 ratio of Branched Chain Amino Acids (BCAAs), Glutamine and 250mg of Sustamine®. All contribute to muscle tissue repair and less post-workout soreness. EliteAmine also restores optimal cellular hydration by balancing electrolytes and flushing out toxins in muscle cells.*
EliteAmine is the only BCAA recovery formula to include ActiGin™ – a new and patent pending complex that has demonstrated clinically to increase high intensity endurance, increase recovery and decrease inflammation. EliteAmine provides the right kind of post-workout fuel so you can recover faster and be back at your training the next day feeling fully recharged.*
Muscles must be hydrated and engorged with glycogen. And when it's all over, the body needs to recover. Sustamine® - a form of glutamine, the most abundant single amino acid in the body – provides essential support during times when the body undergoes large amounts of stress – like during intense weightlifting or dealing with the challenges of everyday life. On top of these benefits, research suggests that Sustamine® is absorbed more than 200 percent better than standard L-glutamine. This means you get better results while having to use less.*
For more information about Elemetx™ EliteAmine or where to order, visit https://elemetx.com/products/eliteamine/.
About Elemetx™ Performance Nutrition
Elemetx™ Performance Nutrition supplements are designed to delivery maximum quality supplements without compromise in quality and effectiveness. Elemetx™ Supplements start with quality, high potency, raw ingredients that are sourced directly from trusted suppliers across the world renowned for providing the best raw botanicals and standardized ingredients. After final formulations are approved by our regulatory and compliance department, our test batches are road tested on real people and athletes with an unbiased feedback platform to ensure you get a quality product that performs as you would expect. Not a whole lot of companies actually road test their products and this is what sets our product development platform a cut above the rest. For more information, visit http://www.elemetx.com.
About Sustamine
Sustamine® L-Alanyl-L-Glutamine is a stable dipeptide of L-Alanine and L-Glutamine. Sustamine is more easily absorbed by the body than complex protein molecules. This makes Sustamine a highly effective ingredient for hydration, endurance and recovery.* Vegetarian, allergen-free and the only GRAS L-Alanyl-L-Glutamine, Sustamine is also tasteless, odorless, and stable in liquids.
Sustamine is an ingredient that works on multiple levels to help rehydrate the body and sustain energy levels during exertion. Sustamine combines L-Glutamine (the most important amino acid for stimulating muscle protein synthesis) and L-Arginine (an amino acid needed for rebuilding your body's glycogen stores). Sustamine may enhance performance and recovery in three primary ways. It helps:

Supports lost electrolytes and fluids
Supports damaged muscle proteins
Refills the body's energy stores
For more information on Sustamine, visit: http://www.sustamine.com.
*These statements have not been evaluated by the Food and Drug Administration. This product is not intended to diagnose, treat, cure, or prevent any disease.
About Kyowa Hakko USA
Kyowa Hakko USA is the North American sales office for Kyowa Hakko Bio Co. Ltd., an international health ingredients manufacturer and world leader in the development, manufacturing and marketing of pharmaceuticals, nutraceuticals and food products. Kyowa is the maker of branded ingredients including Cognizin® Citicoline, Pantesin® Pantethine, Setria® Glutathione, as well as Sustamine® L-Alanyl-L-Glutamine. For more information, visit http://www.kyowa-usa.com.