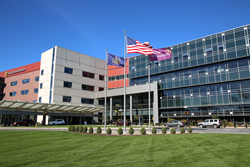 Our medical staff, service partners, volunteers and trustees have fulfilled our mission of extending God's healing love by providing outstanding patient care and helping shape the future of health care in our region.
Williamsport, PA (PRWEB) January 05, 2017
It's been said that change is the only constant in life and that progress is impossible without it. The year 2016 brought a number of notable changes for Susquehanna Health (SH), namely its name, yet its mission remains constant.
"Our leadership family is incredibly proud of the collaboration and commitment shared by the entire organization in 2016," said UPMC Susquehanna President and CEO Steven Johnson. "Our medical staff, service partners, volunteers and trustees have fulfilled our mission of extending God's healing love by providing outstanding patient care and helping shape the future of health care in our region." What follows are accolades and advancements that occurred for UPMC Susquehanna within each season of 2016 and set the stage for promising performance in 2017.
Winter
SH's new Surgery Center opened March 1. Formally known as Same Day Services, the Surgery Center includes 23 surgical and cardiovascular procedure rooms, a patient-centered check-in and reception area, 33 new pre- and post-operative bays, one cardiovascular operating room, two general operating rooms, two cardiac catheterization laboratories, one electrophysiology laboratory and shelled space for another electrophysiology laboratory.
Williamsport Regional Medical Center (WRMC) earned The Joint Commission's Gold Seal of Approval® for Hip and Knee Joint Replacement Certification. The Gold Seal of Approval® is a symbol of quality that reflects a commitment to providing safe and effective patient care. In addition, Highmark Blue Cross Blue Shield recognized WRMC as a Blue Distinction Center for Knee and Hip Replacement, part of the Blue Distinction Specialty Care program. Blue Distinction Centers are nationally designated healthcare facilities shown to deliver improved patient safety and better health outcomes. Hospitals designated as Blue Distinction Centers for Knee and Hip Replacement demonstrate expertise in total knee and total hip replacement surgeries, resulting in fewer patient complications and hospital readmissions.
The Skilled Nursing & Rehabilitation Center was selected to participate in the Agency for Healthcare Research and Quality's (AHRQ) On-Time Pressure Ulcer Prevention Dissemination Program as a result of its five-star rating and commitment to providing the highest quality care to its residents. A division of the U.S. Department of Health and Human Services, AHRQ developed this program to help nursing homes with electronic health records (EHR) reduce the occurrence of in-house pressure ulcers. Best practices from this research will help elevate care nationwide in more than 15,400 nursing homes.
Spring
A partnership between SH's Home Care & Hospice and Shirati Hospital Palliative Care, Tanzania, received the 2016 Global Partnership Award from Global Partners in Care, an affiliate organization of the National Hospice and Palliative Care Organization (NHPCO). The award was presented at NHPCO's annual Management and Leadership Conference held in the Washington, D.C. area.
The Joint Commission and The American Heart Association/American Stroke Association recognized SH with The Joint Commission's Gold Seal of Approval® and the American Heart Association/American Stroke Association's Heart-Check mark for Advanced Certification for Primary Stroke Centers. The Gold Seal of Approval® and the Heart-Check mark represent symbols of quality from these organizations.
In addition, Susquehanna Regional EMS (SREMS), the region's largest EMS agency, was recognized by the American Heart Association with the Mission: Lifeline® EMS Gold Award for implementing quality improvement measures for the treatment of patients who experience severe heart attacks. Agencies that receive this award demonstrated at least 75 percent compliance for each required achievement measure for two years.
Summer
The American Hospital Association's (AHA) Health Forum named SH to the nation's list of Most Wired Health Systems in the U.S. The health system has received this recognition for 14 of the past 16 years.
For the fourth consecutive year, Muncy Valley Hospital (MVH) was named one of the Healthstrong Top 100 Critical Access Hospitals (CAHs) in the U.S. by iVantage Health Analytics. MVH is the only Pennsylvania hospital to receive this award in 2016.
The Hospice and Palliative Care program was honored in June with the prestigious 2016 Circle of Life Award® from the AHA. The Circle of Life Award® celebrates innovation in end of life and palliative care.
The Cancer Center was recognized in September with the American Cancer Society's East Central Division's Health Systems Excellence Award. This award recognizes the health system for embracing the full scope of its relationship with the American Cancer Society (ACS) and demonstrating exemplary support in advancing the fight against cancer.
Fall
The grandest change for SH in 2016 is its affiliation with UPMC. Following two years of extensive exploration and a letter of intent in May, SH determined UPMC to be most supportive of its long-term vision for the communities it serves. UPMC is committed to advancing SH's goals to expand healthcare services, maintaining its patient-focused mission, investing in information technology and providing an additional choice for health insurance to the region.
UPMC Susquehanna celebrated the end of a great year with an "Employer of Choice®" designation. This coveted recognition was presented based on the health system's demonstrated dedication to the highest level of employee relationships, which goes above and beyond normal human resource practices.
###
About UPMC Susquehanna
UPMC Susquehanna is an affiliate of UPMC and a northcentral Pennsylvania based health system that includes Divine Providence Hospital, Muncy Valley Hospital, Soldiers & Sailors Memorial Hospital and Williamsport Regional Medical Center. Serving patients from an 11-county region, UPMC Susquehanna has been recognized at the national and state levels for quality of care. This regional provider offers a wide array of services that include cancer care, heart and vascular care/heart surgery, neurosciences including neurosurgery, orthopedics, urology, OB/GYN, gastrointestinal services, behavioral health, physical rehabilitation, home care, long term care, assisted living and paramedic/ambulance services.
About UPMC
A world-renowned health care provider and insurer, Pittsburgh-based UPMC is inventing new models of patient-centered, cost-effective, accountable care. It provides nearly $900 million a year in benefits to its communities, including more care to the region's most vulnerable citizens than any other health care institution. The largest nongovernmental employer in Pennsylvania, UPMC integrates 60,000 employees, more than 20 hospitals, more than 500 doctors' offices and outpatient sites, a 3-million-member health insurance division, and international and commercial operations. Affiliated with the University of Pittsburgh Schools of the Health Sciences, UPMC ranks No. 12 in the prestigious U.S. News & World Report annual Honor Roll of America's Best Hospitals. For more information, go to UPMC.com.