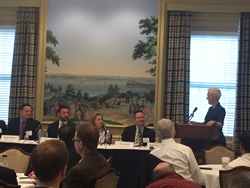 "Adopting the tools, traits, and methods of DevOps organizations can improve not just application development, delivery, and security, but IT operations more broadly," Johnson notes. "IT can become more responsive, more agile, and more efficient."
New York, NY (PRWEB) January 09, 2017
The WSTA will host a panel discussion on "Lean, Agile and DevOps Tools & Process Implementations" on January 19, 2017 in New York City for Financial IT professionals. Johna Till Johnson, CEO and Founder, Nemertes Research, will provide industry perspectives and moderate the discussion. "Adopting the tools, traits, and methods of DevOps organizations can improve not just application development, delivery, and security, but IT operations more broadly," Johnson notes. "IT can become more responsive, more agile, and more efficient." Panel sponsors are: Compuware, Herzum, Red Hat, XebiaLabs and Breakfast Sponsor: Electric Cloud. For more information, visit: http://www.wsta.org/events/event/lean-agile-and-devops-tools-and-process-implementations/
Panel Discussion Overview
If your New Year's resolution is to become a lean, agile IT organization—start off on the right foot with this WSTA panel featuring a hands-on discussion about DevOps best practices. Learn from your peers in the financial services industry what tools work best for code development, continuous delivery, application security, and all the rest. Find out how to shift your team from a slow-and-steady approach to one that delivers business value at startup speed.
Panelists will share best practices, speed bumps, and war stories about what has—and hasn't—worked for them on their DevOps journeys. And attendees will come away with a blueprint that ensures that 2017 will be the year they get DevOps done right!
Profile
Celebrating 50 years, the Wall Street Technology Association (http://www.wsta.org) has provided financial industry technology professionals, vendors, service providers, and consultants forums to learn from and connect with each other. The WSTA facilitates educational seminars and networking events where members meet and exchange ideas and best practices that assist them in effectively capitalizing on technology advances and dealing with financial industry business challenges. Founded in 1967, the WSTA is a not-for-profit association with a long history of evolving to meet the needs of its members.
The WSTA hosts seminars, roundtables, panel discussions, and social events. These events offer many opportunities to stay on top of leading technologies, as well as network and share information with industry colleagues. The WSTA's monthly educational e-Newsletter provides additional content and information about the WSTA and industry-related activities. The website is a dynamic resource for keeping on top of the latest information and offers access to additional resources including webinars, white papers, blogs, videos, and information about other industry events.
Nemertes Research is a research-advisory and consulting firm that specializes in analyzing and quantifying the business value of emerging technologies. You can learn more about Nemertes Research at our Website, http://www.nemertes.com, or contact us directly at research(at)nemertes.com.