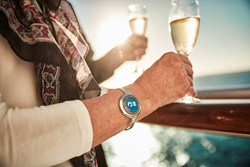 The Matter team are consummate partners.
Las Vegas, NV (PRWEB) January 05, 2017
The Ocean Medallion™, the first-of-its-kind wearable device enables a personal concierge by bridging the physical and digital worlds to deliver a new level of personalized service not previously considered possible.
"Our team of digital and industrial designers couldn't have been happier to have been a part of an amazing and vast team of partners who have brought the Ocean Medallion to life," said MATTER'S CEO and Founder, Max Burton. "We are especially proud of helping Carnival Corporation to achieve its goal of assisting guests in making the most of every moment of their precious vacation time."
"The Matter team are consummate partners that have a unique grasp of physical, digital and increasingly fused interaction development. Combining a unique blend of creative and industrial design capabilities, Matter always contributes to unique and inspired solutions." said John Padgett, chief experience and innovation officer for Carnival Corporation.
The Ocean Medallion pairs with an optional personalized digital concierge called the Ocean Compass™, a digital experience portal available online, on smart devices, on kiosks in home ports, on stateroom TVs, on interactive surfaces located throughout the cruise ship and on devices carried by all guest service hosts.
Both innovations combine with an invisible network of proprietary sensors and computing devices embedded throughout the ship, home ports and destinations to learn what's important to each guest and then recommend other experiences that align with their choices and preferences.
The network changes everything about the cruise experience and delivers revolutionary improvements including food and beverage on demand, anywhere interactive gaming, personalized entertainment, sophisticated wayfinding, and much more.
Princess Cruises will be the first cruise brand in the corporation's fleet to feature the enhanced personal service, when Medallion Class Vacations debut in November 2017 on the Regal Princess. More at ocean.com.
About MATTER: MATTER, the leading design firm for the connected world is focused on enhancing people's lives through leveraging the power of design. Founded in San Francisco in 2012 by Max Burton, MATTER and its diverse team of digital and industrial designers are driving the conversation that is defining the future of the connected landscape.
About Carnival Corporation & plc
Carnival Corporation & plc is the largest leisure travel company in the world, with a portfolio of 10 cruise brands in North America, Europe, Australia and Asia comprised of Carnival Cruise Line, Fathom, Holland America Line, Princess Cruises, Seabourn, AIDA Cruises, Costa Cruises, Cunard, P&O Cruises (Australia) and P&O Cruises (UK).
Together, these brands operate 102 ships visiting over 700 ports around the world and totaling 226,000 lower berths with 17 new ships scheduled to be delivered between 2017 and 2022.
Carnival Corporation & plc also operates Holland America Princess Alaska Tours, the leading tour companies in Alaska and the Canadian Yukon. Traded on both the New York and London Stock Exchanges, Carnival Corporation & plc is the only group in the world to be included in both the S&P500 and the FTSE 100 indices.