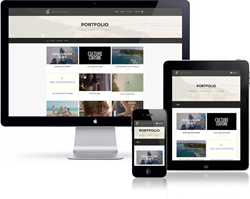 We Craft Beautiful WordPress Websites.CHRS specializes in creating Breathtaking, Feature Rich Websites that enhance your Business.
Los Angeles, CA (PRWEB) January 09, 2017
CHRS Interactive prides themselves on their great work and high rates of customer satisfaction. Clients of CHRS Interactive undoubtedly already know about the strong work ethic and quality product they provide.
Many of their current clients have been referred to them by other businesses that they helped put over the top in terms of online marketing endeavors. They have discovered that a reputation for quality and excellence is the best advertising for a business in their field. It is not uncommon for a new client to mention that a friend or colleague recommended them because of the great work CHRS Interactive did.
However, on top of anecdotal customer experiences, CHRS Interactive can now point to a solid indicator of the kind of work they do: CHRS Interactive was recently recognized by Clutch as one of the best WordPress development agencies in the Los Angeles and surrounding areas.
The Clutch Recognition and What It Means
Clutch is a well-known B2B firm that analyzes tech companies operating in various parts of the industry. Using a technical and selective process, Clutch seeks to recognize those tech companies whose work is superior and whose rates of customer satisfaction set the standard.
To be named by Clutch as one of the top ten WordPress development agencies in the area in and around Los Angeles is a high distinction, and CHRS Interactive is proud to receive this honor. They believe the Clutch recognition highlights what they (and their customers) already know: they are very good at what they do, and bring real value to the table.
CHRS Interactive: Raising the Bar for WordPress Development
CHRS Interactive works hard to help each business succeed. A large part of this is cultivating a client's online presence. Whether the company needs help engaging in a social media campaign, managing their online marketing strategy, or relaunching a new and improved WordPress website, they can help you out.
They know all about what does—and does not—work when it comes to an online presence. CHRS Interactive knows how to help a company grow, and they are there to help companies compete in the high-tech world of today. They take a company's success very seriously, because they truly believe that the company's success is also their success.
When In Need of a Los Angeles WordPress Development Firm, Speak with CHRS Interactive
They know that the world of online marketing can be hectic and challenging, to say the least. That's why they have dedicated their business to helping so many businesses succeed. From designing and implementing a website, to assisting with overall marketing strategy, they are there to help.
CHRS Interactive takes the time to get to know each client. Once a solid relationship has been established and goals have been recognized, a custom-made website that meshes with what the client wants and the subsequent marketing strategies are formed.
Any company that wants the help of one of Clutch's top WordPress development agencies in the Los Angeles and surrounding areas should give CHRS Interactive a call today.
Contact Details:
For more information and pricing details, contact CHRS Interactive at 818-568-4798, or visit http://www.chrsinteractive.com.