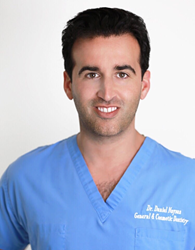 (PRWEB) January 04, 2017
Dr. Daniel Naysan Joins the Exclusive Haute Beauty Network
Dr. Daniel Naysan, premier cosmetic dentist of Beverly Hills, CA, has joined the prestigious Haute Beauty network.
The Haute Beauty Network, affiliated with luxury lifestyle publication Haute Living, is proud to recognize Dr. Daniel Naysan as a prominent cosmetic dentist and the network's newest Beauty partner.
Beverly Hill's renowned cosmetic dentist, Dr. Daniel Naysan, has partnered with Haute Living as one of Haute Beauty's featured cosmetic doctors and a leading influencer in the industry. As a Haute Living Beauty Ambassador, Dr. Naysan will share his skill and expertise with the Haute Beauty and Haute Living subscribers, educating readers on his industry and providing exciting news, tips and insight.
About Dr. Naysan:
A graduate of the University of Southern California, Dr. Daniel Naysan is a talented D.D.S. who also earned his Bachelor of Science degree in gerontology from USC as well. He has an advanced certification for the invisalign system, and offers some of the best options for veneers at his Beverly Hills Dental Office. He is a member of the American Dental Association, the Los Angeles Dental Society, as well as the Alpha Omega Dental Fraternity. Dr. Naysan takes great pride in creating beautiful lasting smiles, offering the best and most cutting edge in dental services and cosmetic dentistry. Come into his award winning new dental office and see why it has received many recognitions and the 2016 LA Architectural Award for it's modern design.
"We are happy to have the pleasure to be inspired and educated by his work." — The Haute Beauty Team.