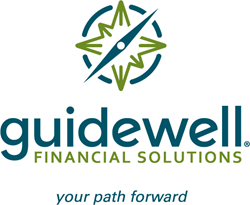 We are excited to have these nine experienced and accomplished professionals on our voluntary Board of Directors. They each bring a fresh perspective and unique skills. - Helene Raynaud, President & CEO
Baltimore, Maryland (PRWEB) January 05, 2017
Nonprofit Guidewell Financial Solutions (also known as Consumer Credit Counseling Service of Maryland and Delaware, Inc.) begins the New Year by presenting the eight professionals who joined its volunteer Board of Directors this past year. President and CEO Helene Raynaud says, "We are excited to have such experienced and accomplished professionals with invaluable insights and involvement. They each bring a fresh perspective and unique skills to our Board."
Guidewell Financial's new Board Members include:
Laurie Benner - Benner has years of experience and expertise in the housing and nonprofit sectors. Her current role as Director of Housing Programs at the Maryland Association of Realtors® will provide the agency with opportunities to reach more than 23,000 real estate, lending, financial services, and community development professionals in Maryland.
Tisa Silver Canady - As Director of Financial Education and Wellness at the University of Maryland, Baltimore, Canady has gained a firsthand knowledge of the financial struggles campus employees, students, and their families face. She is a seasoned educator, finance author, and advocate who plans to help the agency build relationships with educational partners and government agencies throughout Maryland and Delaware.
Lauren Hughes - Hughes is the Family Services Manager at Habitat for Humanity of the Chesapeake. In this role, she manages families' progress in the Habitat home ownership program and oversees its financial literacy curriculum. Her work has given her insight into how financial empowerment and goal setting help individuals and families achieve home ownership and financial wellbeing.
Kathleen P. Hyland - In Hyland's consumer law practice, she assists clients with debt, auto loan, and student loan issues and helps them understand their mortgages and leases. She brings board planning skills and a knowledge of fundraising, financial management, and program development from her role as Treasurer of the Board of Directors for the Maryland Consumer Rights Coalition and her nonprofit work at Civil Justice.
Benjamin Lowenthal - Lowenthal is the Associate Vice President of Financial Services at University of Maryland, Baltimore County, where he also co-chairs the Financial Literacy Work Group. He has 22 years of financial management experience on four University System of Maryland campuses. As a CPA with an MBA in Finance, he has also delivered course content in Accounting and Organizational Behavior.
Timothy Pierce - Pierce is employed as Vice President and Chief Compliance Officer at Howard Bank. With more than 15 years of banking regulatory compliance experience, he brings Community Reinvestment Act expertise and knowledge of other consumer regulations. Committed to community service, he belongs to the Y of Central MD's Community Leadership Board and Howard County Police's Citizen Advisory Council.
Charlie Rocha - As Chief Marketing Officer for Sallie Mae, Rocha wants to help young people learn to manage their money responsibly and become financially self-sufficient. His perspective on student lending will be particularly useful to the agency. He also has more than 30 years' experience in consumer and small lending and has held leadership positions in credit, operations, sales, and marketing.
Martha C. Souder - Souder is the first counseling client to serve on Guidewell Financial Solutions' Board. Participating in the agency's debt management program, she repaid nearly $50,000 of debt in just three-and-a-half years and has since become an influential consumer finance advocate. Souder works as a Program Specialist in the Commission on Certification division of the American Nurses Association.
These new Members join Guidewell Financial's current Board of Directors: Rahn V. Barnes (Consultant - Healthy Neighborhoods), John Bratsakis (President / CEO - Maryland and DC Credit Union Association), Gordon E. Clark (Former President / CEO - Leeds Federal), Christopher V. DiPietro (Executive Director - Mid-Atlantic Financial Services Association, Inc.), and J. Steven Lovejoy (Board Chair and Attorney – Shumaker Williams, PC).
Raynaud says, "We want to thank all of our Board Members for devoting their time, efforts, and expertise. Their contributions and guidance will help make this another banner year at Guidewell Financial!"
About Guidewell Financial Solutions
Guidewell Financial Solutions (also known as Consumer Credit Counseling Service of Maryland and Delaware, Inc.) is an accredited 501(c)(3) nonprofit agency that helps stabilize communities by creating hope and promoting economic self-sufficiency to individuals and families through financial education and counseling. Maryland License #14-01 / Delaware License #07-01