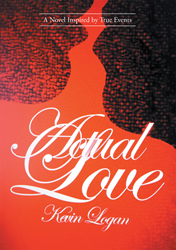 Manchester, England (PRWEB) January 09, 2017
A Manchester-based author and former journalist has published his tenth book, "Actual Love." The book, published by author Kevin Logan, is the telling of one love story intertwined with love stories of the past.
"Actual Love" is the novel version of "What is Love?," a nonfiction book also published by Logan. Logan felt inspired to turn the work into fiction after sensing that the world is losing touch with actual love.
The book follows Reverend David Jackson, who, after getting scolded for shouting obscenities in midair, reflects on the past several weeks of life and the disastrous relationship with wife Colette. Feeling melancholy about life, Reverend Jackson is introduced to a Dead Sea scroll. As the scroll consumes Jackson, the main is submerged in love stories of the past, which require him to look at his own love story.
"This book is for anyone who is interested in finding out what love is all about," said Logan. "It's about the purpose of life and it's for anyone who enjoys a good love story."
For inspiration when writing "Actual Love," Logan traveled nearly 20,000 miles to Jerusalem, Masada and the Dead Sea. For parts of the novel which include modern times, Loganvisited Brooklyn, N.Y. as well as Ireland and Oxford.
A combination of three separate disastrous love stories, "Actual Love" encourages readers to ask the thought-provoking question, 'What is Love?'
"Actual Love"
By Kevin Logan
ISBN: 978-1-4834-5145-3 (paperback); 978-1-4834-5414-6 (electronic)
Available at Lulu, Amazon and Barnes & Noble
About the author
Kevin Logan has more than 35 years of experience in ministry. Logan received his Diploma in Pastoral Studies from Oak Hill Theological College in London and has two children as well as four grandchildren. In his free time, Logan enjoys playing the alto saxophone as well as the piano.
Review Copies & Interview Requests:
LAVIDGE – Phoenix
Chris Peña
480-998-2600 x 519
cpena(at)lavidge(dot)com
General Inquiries:
LAVIDGE – Phoenix
Bryan Beach
480-998-2600 x 510
bbeach(at)lavidge(dot)com