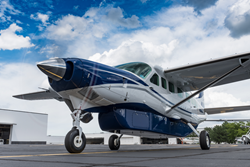 TEAMWORK makes the
Mason City, Iowa (PRWEB) January 06, 2017
St. Louis, MO – The Department of Transportation (DOT) recently re-selected Air Choice One to provide Essential Air Service (EAS) to Mason City, IA for the next four years. Air Choice One operates a fleet of Cessna Grand Caravans. Service from Mason City is available to Chicago O'Hare International Airport (ORD) with 12 weekly nonstop round trips and 12 weekly nonstop round trips to Minneapolis-St. Paul International Airport (MSP). Also Air Choice One offers flights to Lambert–St. Louis International Airport via Burlington and Fort Dodge, Iowa.
President/CEO Shane Storz said, "Being selected by the community and the DOT to continue providing service is a great opportunity for our company. We have invested in growing our service in these communities and are grateful to be selected to continue that investment. This has been a year of growth and expansion, and we're excited to continue to build on that momentum in 2017 and beyond."
"The announcement from Essential Air Service Officials (EAS) in Washington, DC approving a four-year EAS contract with Air Choice One is what the Airport Commission recommended and felt this was the right choice for Mason City and Fort Dodge. We are extremely pleased with the decision from the EAS Department.
Air Choice One has demonstrated their commitment to provide quality air service to the traveling public of north Iowa over the last two years and they can now continue with a four-year commitment to the community. Air Choice One is established in three major hubs, Minneapolis, Chicago and St. Louis providing opportunities to travel anywhere in the world." – Pamela Osgood, Airport Manager for the Mason City Municipal Airport
Air Choice One also offers service Ironwood, MI, Fort Dodge, IA, Decatur, IL, Burlington, IA, Jonesboro, AR, Jackson, TN
Established in 1979, Air Choice One not only provides Essential Air Service, we serve with our whole heart and use our resources to support the communities with which we partner. We are always grateful for every opportunity to serve new or continuing communities.